By Kyla Ryanne Lumibao/UM Intern – THE DAVAO City Agriculturist Office plans to establish 1,000 rainwater catchments while it continues to accept applications from the farmers.
In an interview during the At Your Service program of 87.5 FM Davao City Disaster Radio program on April 12, Assistant City Agriculturist Edgardo Haspe explained two important purposes.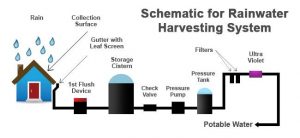 "Duha ang purpose aning rainwater catchment. Una, ang ma-mitigate ang impact sa pagbaha kay gamay nalang tubig ang modagayday sa mga river channels, at the same time duna'y source sa tubig sa panahon sa tig-init (There are two purposes of the rainwater catchment. First is to mitigate the impact of flooding as only limited rainwater will flow through river channels and at the same time, there will be a source of water during the dry season)," Haspe stated.
Haspe added that the city already put up over 150 rainwater catchments in Marilog District. These can help prevent flooding of river channels as each rainwater catchment can catch about 200 cubic meters of rainwater.
He also said that farmers use some rainwater catchments in strategic areas as fish ponds to grow tilapia and catfish.
"Kung taas-taas duna'y pondong tubig, pwede siya magamit as fish pond and source of water sa panahon sa tag-init. Mga 32 percent sa rainwater catchments duna'y sulod semilya sa tilapia ug hito. Libre man siya sa gobyerno, shouldered by the government (If water stored in the catchments has high levels, it can be utilized as a fish pond and a source of water during hot weather. At least 32 percent of the established rainwater catchments  by the city have tilapia and catfish fingerlings. The fingerlings are free and shouldered by the government)," he said.
The city's agricultural engineers are also evaluating possible land areas to determine the feasibility of making them into rainwater catchments, which usually measure 10×15 meters of land each, Haspe added.
Farmers from other areas sent requests to the City Agriculturist Office to build rainwater catchments on their farms. But Haspe said that some areas will be prioritized on account of easier access.  For instance, since the backhoe is currently in Barangay Bantol in Marilog District, farmers within the vicinity will be first accommodated before transferring the equipment to another barangay.
500 rainwater catchments are expected in Paquibato District once another backhoe is available – making the 1000 target rainwater catchments viable even with the backhoe already being used in Marilog District. 
Haspe said that farmers need to acquire a barangay resolution in order to request rainwater catchments from their office, and the requesting party must provide proof of land ownership where the rainwater catchment will be placed. Also, an approval from the National Commission on Indigenous Peoples (NCIP) must be secured for lands within the ancestral domain of the indigenous people (IP).