By Enalyn Manguiob/UM Intern – THE CITY Transport and Traffic Management Office will not implement road closures but will deploy 900 traffic personnel in observance of the Holy Week on April 14-16 2022.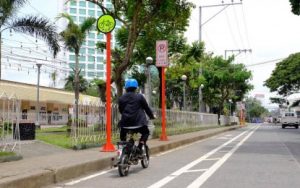 According to Dionisio Abude, chief of the Davao City Traffic and Management Office, they will deploy traffic personnel on the road to avoid traffic congestion and ensure the safety of Davaoeños during the Holy Week.
"Kay usagay ma occupy man gud, kung syempre ang matag church naa man gyud, mag provide man gyud sila'g marshal pero naay uban muuban sa Way of the Cross dili gani usahay mag labang-labang kinahanglan mu-occupy pa sa pikas so kinahanglan nga ma manage gyud nato sa katong atong mga marshal pod sa simbahan so mao nang nag deploy gyud tag mga tao (Each church usually provide a marshal but there are devotees who will join the Way of the Cross and they may occupy the other lane, so we need to deploy people to manage the crowd)" he said.
The 900 personnel will be deployed to all the churches in the city—84 CTTMO personnel to San Pedro Cathedral, 49 personnel to San Pablo Chruch, 77 personnel to the Holy Infant of Jesus Church, and 52 personnel to St. Jude of Parish and Assumption Church, 50 personnel to Sta. Ana Church, 73 to the Redemptorist Church, 59 personnel to the Sacred Heart of Jesus, 51 personnel to Our Lady of Fatima, and 56 personnel to St. Francis of Assisi. 
Abude emphasized the importance of planning and deploying personnel to manage the road especially since there will be multiple routes, including a procession that will be held.
"Dili pwede nga dili gyud ta mag hatag og plano, especially kung dunay mga ruta and daghan agian ang way of the cross, then station of the cross, naa pud pagkahapon ana poy procession sa Santo Intierro, so dapat matagaan nato mga personahe para ma manage natong maayo ang kalsada (We need an integrated plan, especialy if the Way of the Cross and the Station of the Cross [organized by different churches] have their respective routes. We need to give them personnel to manage our roads)," he said.