By  Jenalyn Manguiob UM Intern – THE DAVAO City Risk Reduction and Management Office (CDRRMO) and the Barangay Risk Reduction and Management Council (BRRMC) rescued eight families following a landslide on Monday morning, April 11 , at Upper West Marahan, Barangay Marilog Proper.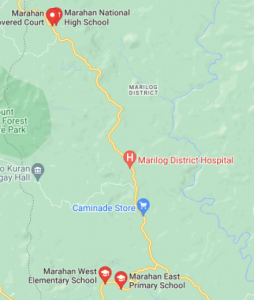 Alfredo Baloran, CDRRMO head, said that the families were safely evacuated and took temporary shelter at GKK San Miguel. No casualties were recorded in the incident.
"Ang atong office CDRRMO nag-instruct sa BDRRMC na i-evacuate ang affected families didto sa gi-identify na evacuation area- Upper West Marahan Covered court pero gibalhin sila sa BDRRMC didto sa GKK kay ang GKK man gud naay bong-bong." he said.
As of April 12, three families remained sheltered at GKK San Miguel while others returned or have stayed with their relatives. Close-by house structures were found in landslide-prone areas and some cracks in the house structures were under observation.
Baloran added that another landslide occurred at Sitio Opol in Barangay Bayanihan that obsteucted the Davao-Bukidnon road on Monday afternoon. No casualties were recorded.
The City Engineer's Office and the Barangay conducted a road clearing to avoid traffic obstruction.
Baloran said that Marilog has experienced strong winds and rain showers due to TS Agaton. 
The residents in the landslide-prone areas in Marilog and residents along the Suawan River and Davao river were advised to stay alert due to continued weather disturbances and possible rise in water level.