THREE drivers and two conductors of public utility buses at the Davao City Overland Transport Terminal (Dcott) will face a charge after testing positive during the surprise drug test conducted by the Philippine Drug Enforcement Agency (PDEA) XI on Friday, April 8.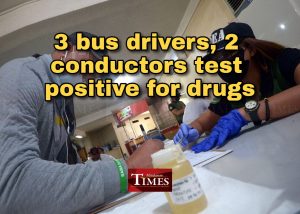 Nonito Llanos, the regional director of the Land Transportation Franchising and Regulatory Board (LTFRB) XI, said based on their data, a total of 155 drivers and 90 conductors at the terminal were subjected to a surprise drug test under "Oplan Harabas" as part of the security measures for the Holy Week.
In a separate interview, Land Transportation Office XI director Neil Cañedo, said a total of 14 drivers in the cities of Davao, Digos, and Tagum failed the drug test. 
Cañedo said they will face a case for violation of Republic Act 10586 (An act penalizing persons driving under the influence of alcohol, dangerous drugs, and similar substances, and for other purposes).
PDEA XI director Aileen Lovitos, said they implemented Oplan Harabas to ensure the safety and security of the passengers from reckless drivers who will ferry them to their respective destinations while under the influence of drugs. 
The operation was also joined by the local government units of Davao City, Digos City, and Tagum City; Police Regional Office XI; Highway Patrol Group XI; Land Transportation Office LTO XI; LTFRB XI, Department of Health (DOH) XI; City Transport and Traffic Management Office; and Davao City Public Safety and Security Command Center.
The Oplan Harabas was conducted on April 8 in Davao Region particularly at Davao City Overland Transport Terminal (DCOTT), and Gaisano Mall Transport Terminal in Davao City, Digos City New Satellite Bus Terminal in Digos City, Davao del Sur and Tagum City Overland Transport Integrated Terminal (TOTIT), in Tagum City, Davao del Norte.  
 The PDEA is also asking everyone to help the government attain its vision for a drug-free country by reporting to its office those who are involved in illegal drug activities. People can call or text at numbers 082-228-1603 and 09331481387.