By Ezra Francisquete / UM Main, Intern –  The Civil Service Commission (CSC) Region XI has announced to open its June 19, 2022 examination beginning from April 12 to April 28, 2022, and will only accommodate a number of 8,600 registered applicants, which will be held in Davao, Tagum, and Mati City Training Centers respectively.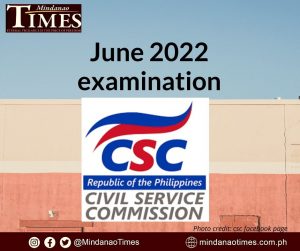 During the Kapehan sa Dabaw held at SM, Ecoland, last April 11, 2022, Mr. Cyril Nathan Eamiguel, Regional Director IV of CSC ROXI, stated that the acceptance of the exam will be on a first-come, first-serve basis and will be closed upon reaching the final quota. He added that the numbers are projected from the 2021 to 2022 fresh graduates, and applicants are still expected to get the required minimum general rating of 80% both from sub and professional levels for eligibility. 
In a closing statement of Mr. Mark Mendoza, one of the Commissioners, applicants interested in applying shall download the revised CS Form 100 via the official website of CSC ROXI while the application is ongoing. He urged the applicants to follow their website and the official Facebook for updates.
Furthermore, the CSC ROXI will no longer accept submissions in their regional offices; instead, applicants must visit SM City, Davao, 2nd Floor Annex Building (Cyberzone) from 9:00 am to 7:00 pm to submit their application and other personal transactions.