A FIRE left 14 families homeless in Purok 39 Lumicad compound, in Barangay Maa, amid rains brought by Typhoon Agaton on Monday.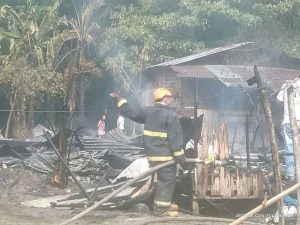 According to Insp. Shaira Borja, the newly designated Bureau of Fire and Protection (BFP) XI spokesperson, the fire was reported at 7:52 a.m. Firefighters declared a fire-out by 8:36 a.m.
Borja, said the cause of the fire was probably electrical ignition due to overload of electrical wiring (still under investigation).
The BFP, along with the other fire investigators, and residents in the area worked together to put out the fire.
Moreover, the said fire razed ten houses with P90,000 estimated damage.