By Aliyah Gabrielle Bautista/UM Intern
BAD WEATHER conditions are to blame for the collapse of the wall of Bunawan bridge resulting in about 10 million pesos in damage.
This was confirmed by the DPWH XI spokesperson Dean Ortiz during the Kapehan sa Davao press conference held on April 11, 2022. 
According to Ortiz, the recurring bad weather conditions experienced by the city resulted in the saturation of the base of the bridge. As a result, the cement did not cure properly.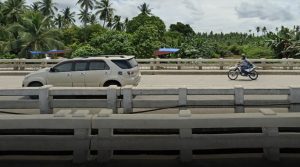 With this, the repair for the collapsed wall, located at the southbound way of the bridge, is underway.  
Ortiz added that the cost of these repairs will be shouldered by the contractor.
The initial targeted date of completion for the Bunawan bridge was set on April 18, 2022. But due to the repairs, the original date was moved to three more months.