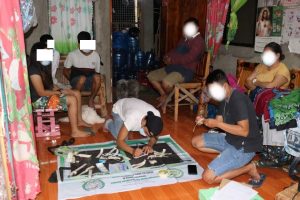 THREE alleged drug personalities were arrested and P180,000 worth of shabu were seized after a reported drug den was dismantled by law enforcers at 11:45 p.m. on April 8 in Purok Sta. Cruz, Barangay Malativas, Panabo City.
Nephi Noli Dimaandal, the Philippine Drug Enforcement Agency (PDEA) XI, identified the target as Gerald Gudmalin, 28, married and a resident of the said place.
Gudmalin was arrested for allegedly selling a sachet of shabu weighing more or less one gram worth P8,000 to a PDEA agent who acted as a poseur buyer. 
During the operation, the joint elements of Davao del Norte Provincial Office of Philippine Drug Enforcement Agency Regional Office XI, together with Station Drug Enforcement Unit of Panabo City Police Station, also arrested a drug den employee and a drug den visitor identified as Shirley Gudmalin and Tammy Panganduyon Jr
According to the report, nine suspected shabu in different sizes, weighing more or less twelve grams with a street value of P 180,000, assorted drug paraphernalia, a .45 caliber pistol with live ammunition, buy-bust money, and the boodle money were also seized during the operation.  
PDEA XI chief Aileen Lovitos said that the PDEA will continuously intensify its anti-drug campaign as she thanked the tipster that lead to the arrest of the drug personalities.
 The suspects will be charged with violation of Republic Act 9165 (Comprehensive Dangerous Drugs Act of 2002) and Republic Act 10591 (Comprehensive Firearms and Ammunition Regulation Act of 2013).