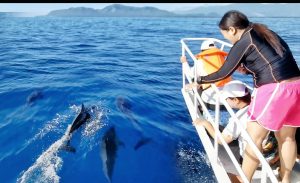 THE bodies of water surrounding Mati City in Davao Oriental is considered one of the country's top diversity sites for whales, turtles and dolphins. 
During the recently concluded Pilot Training for Marine Wildlife Tourism Interaction Program of the Department of Tourism held last March 30 – 31 in Mati City, participants were able to experience first-hand encounters with various marine wildlife, such as dolphins in Mayo Bay. 
"There are pods of Spinner dolphins that can be found in Dahican and Mayo Bay. We regularly see them feeding and playing as early as 5 in the morning," said said Winston Plaza, one of the founders of Mati-based Amihan sa Dahican-Save our Seas, an environmental conservation group. 
 Accorsing to Plaza, the dolphins usually do their mating activity in the afternoon. By noontime, they can be found "sleeping". 
"They're just immobile when they sleep, floating on placid waters," Plaza explained. 
Last March 31, Plaza led the participants to a dolphin watching activity in Mayo Bay. 
A pod of Spinner dolphins initially showed off by leaping out of the water alongside the motorboat. Gradually, they went closer to the motorboat and started bow-riding (when dolphins surf in the wave created by boats and ships).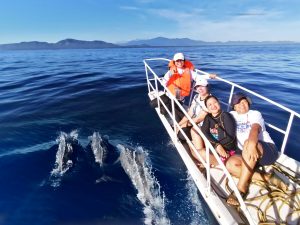 Aside from satisfying their curiosity, dolphins bow-ride to catch a "free ride" as the strong kinetic energy created by waves propels the dolphins along, allowing them to swim while exerting less effort.
"In the waters surrounding Mati, we also have dwarf spinner, pantropical spotted, bottlenose, and common bottlenose dolphins. They are here all-year round since there is abundance of food," he added. 
However, the best time to see them are from May to September when the waters are calmer.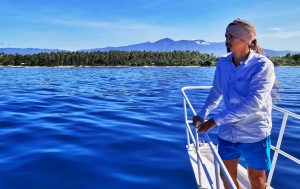 Melonheaded whale, false killer whale, short finned pilot whales can also be found along the coasts of barangays Bobon and Lawigan, east of Mati. 
Meanwhile, dugongs scour the seagrass areas but they are usually elusive especially when they see large groups of people invading their space. 
Whale sharks are also regularly sighted in the area. 
"We have visitors inquiring about wildlife encounters in Mati. However, for as long as we don't have the policies and protocols in place, we still can't offer these activities as we don't want to disturb their habitats," said Plaza.