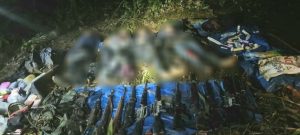 THE military reported that four high ranking leaders of the New People's Army (NPA) were killed, while 16 firearms seized in an encounter with the soldiers of 1st Special forces battalion in Barangay Tikalaan, Talakag, Bukidnon Wednesday afternoon.
Those who died were Carlisio D. Sumalinog, Jovilito D. Pontillas, Gary I. Juliana, and Jelly A. Sugnot.
Major Francisco Garello Jr., 4th Infantry Division Public Affairs Office (DPAO) chief, seven of the recovered firearms were M16s, a M203 grenade launcher, two R4 Carbine Rifles, a M653 Rifle, three M1 garand rifles, an AK47 Rifle and an M14 Rifle. 
Major General Wilbur C. Mamawag, division commander, said the military unit will continue to intensify its campaign against the rebels.