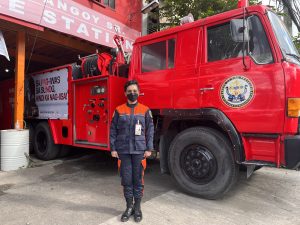 LEONELA (aka "Nela") is a firefighter and is currently working at C. Bangoy Sr. Fire Station in Davao City. Before she became a firefighter, however, she was one of the 127 scholars that Davao Light and Power Co., Inc. and Aboitiz Foundation, Inc. have supported since 2011.
Nela applied for the scholarship after graduating from Davao City National High School. "I knew it wouldn't be easy to get accepted when I applied for the scholarship. My co-applicants were valedictorians and salutatorians and while I did have a high average, I know it would be hard to compete with them for the slot," Nela shared. Out of 80 applicants, Nela got accepted along with 29 other scholars in her batch.
"I had a hard time maintaining the required average when I was in my third year of college," Nela recalled. She took up BS Accountancy at the Christian Colleges of Southeast Asia (CCSA). "It's not easy to study accountancy but the scholarship supported me until I graduated, and for that I am very thankful to Davao Light and Aboitiz Foundation." The scholarship covered her tuition fees, books, and uniform.
"My advice to the current scholars is to work hard and focus on your studies. You became a Davao Light scholar because you deserved it. Don't waste the chance given to you," Nela addressed the current scholars of Davao Light and Aboitiz Foundation.
When asked about the values she got from being a Davao Light scholar, Nela shared that when she was a student, she learned to value time and managed it effectively. Similarly, being a firefighter also requires time management. "There is no required time and place for a fire or a flood to occur, so we have to be always ready to respond wherever and whenever," Nela added.
During this year's Fire Prevention Month, Nela and her colleagues conducted a Fire Square Road Show to showcase skills in basic firefighting, pre-hospital emergency care management, and technical rescue in a famous mall in Davao City.
Nela shared that it was not her dream to become a firefighter. "I was convinced by my husband, who is also in BFP, to become a firefighter. Despite this, I worked hard during the training. It was not easy to enter the BFP."
As a woman, Nela shared that one's gender doesn't matter when it comes to becoming a firefighter. "During training, the Bureau of Fire Protection (BFP) promotes gender equality. If men can do it, women can do it, too. Everyone goes through the same level of training no matter the gender, ability, or strength," Nela explained. "What you can do is to focus on your own work and handle yourself accordingly. Show the right attitude, professionalism, and character."
The BFP continues in its efforts to reduce fire incidents in the Philippines with this year's Fire Prevention Month theme: "Sa Pag-iwas sa Sunog Hindi Ka Nag-iisa."