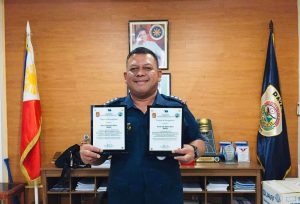 THE Davao City Police Office (DCPO) received major awards from the Police Regional Office on the celebration of the National Women's Month on Monday.
The office won the won the Best Women and Children protection desk (WCPD) unit for City Police Office/Police Provincial Office category (regionwide) and placed as the 1st runner-up in the Investigator's Olympics as part of the activity.
Brig Gen Allan Okubo, Police Regional Office 11 deputy regional director for Administration (DRDA) administered the awarding during the flag-raising ceremony.
Colonel Alberto Lupaz, DCPO acting chief, thanked the WCPD personnel for their exemplary performances that resulted in the success of the unit as well as their competence in handling crime scene processing and investigation-involving gender-based violence during the Investigator's Olympics last March 28, at Police Regional Office 11.
"Truly, Davao City Police Office is the home of the best, the brave, and the finest!," he added.