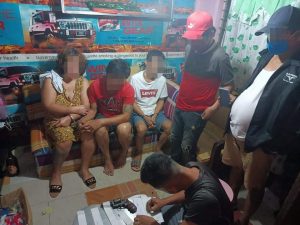 LAW ENFORCERS arrested one of the top persons identified in the watch list on personalities involved in illegal drugs and his two companions in a raid Barangay R. Castillo Agdao Sunday dawn.
Major Jake Goles, commander of Sta. Ana Police Station, said agents immediately handcuffed
Edlino Añana Estillore, 38, single, Laborer, a resident of Brgy Agdao Proper, as he tried to sell a sachet of shabu to one of the agents who posed as buyer. The team also arrested two other residents of the place in Tommy Roma Martinez, 46, single and Anith Pandong Abellameda, 46.
The report said also seized from them were two other sachets containing the same illegal substance with a value P170 and a handgun.
Goles said Estillore was number six in the list of the high value targets for illegal drugs in the region.
Cases were being prepared against them as they were still detained at the police station.