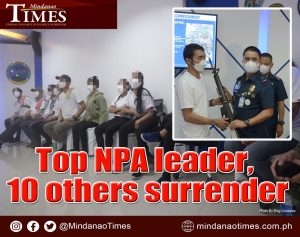 LAW enforcement agencies reported that that another top official of the New People's Army (NPA) and two other members surrendered last week.
Those who surrendered were Maximo Catarata, NPA Guerilla Front 3 secretary; while the 10 others were identified only by their nicknames.
Captain Mark Anthony Tito, 10th Infantry Division Public Affairs Office chief, said Catarata surrendered at the headquarters of the 60th Infantry Battalion in Asuncion, Davao del Norte on March 31. On hand to receive Catarata were Davao del Norte Governor Edwin Jubahib; Major General Nolasco Mempin, 10th Infantry Division commander; Brig. Gen. Jesus P Durante III, 1001st Infantry Brigade commander; and Lt Col Merrill C Sumalinog 60th Infantry Battalion commander.
On the part of the others, Brig. Gen. Benjamin Silo Jr., Police Regional Office director, said during a press briefing at the Camp Quintin Merecido that they surrendered in Sitio Mission, Barangay Andap, New Bataan, Davao de Oro.
Silo said they were members of the Guerilla Front 2 of the Southern Mindanao Regional Committee . They also brought with them their rifles and ammunition.
He added that the former rebels have been placed on protective custody as assistance that would be provided to them is being prepared.
On the part of Catarata, Tito added that two days before his surrender, three other members of the front surrendered to the battalion. Those who surrendered were Emy Ansag Camilo, it logistics officer; Nilo and Reyan Moluhinday.
On February 26, Catarata's son, Renard, who was then the commanding officer of the front, and 12 othrs also surrendered to the battalion and brought with them their rifles.
The division said in a statement that the surrender of the rebels has resulted in the dismantling of the front.