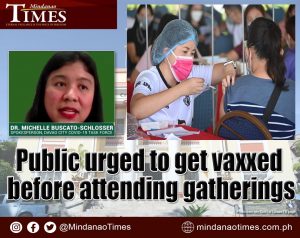 THE CITY government has urged residents to get vaccinated, including booster shots, against COVID-19 before joining mass gatherings that may become super spreader events.
Dr. Michelle Schlosser, COVID-19 Task Force spokesperson, said the people must get protected first before attending these gatherings even as activities have resumed following the lowering of alert level in the city.
"Mas maayo fully vaccinated and boostered mo so that you will have a layer of protection against the severity of the disease. Kung di mapigilan ang transmission whether we like it or not, we can prevent the severity of the disease, and further, we can prevent deaths ," said Schlooser last week.
This developed as the vaccination cluster also said there there was no unnecessary vaccine disposal.
Dr. Josephine Villafuerte, vaccine cluster head, said that to ensure that all vaccines are used, the method was "first in first out."
"Tapos kung naa mi near to expire, ginapaspasan na namo sya kay kung pwede lang wala tay expired vaccines," Villafuerte added.
The office made the statement after the Department of Health reported that about 1.7 million vaccines were wasted.
Villafuerte said the minimal wastage in the city were just those bottles that were broken and those that were subject of poor extraction. " Mao tong mga daut nato pero naexpire, wala na mahitabo," she added, although she said there were vaccines which could not be used because they were brought to vaccination sites in rural areas of the city where only few went to get vaccinated.
In urging more people to get inoculated, as reception to booster shot was lukewarm, Schlosser said that one must consider the risk of getting infected when attending events with huge crowd and when some of the attendees forgot practicing minimum health standards.
One such event took place last month when several people who went to a bar were found not practicing the standards. This even resulted in the issuance of citation tickets on the violators as well as the closure of the bar which was found operating without a permit.
Schlosser also reminded the public that the use of facemask is still required even when the city government has issued an order for the lifting of other requirements when people are in public places.
Villafuerte also bared that there was a high response to the vaccination rollout in barangays during the last three days of last month.