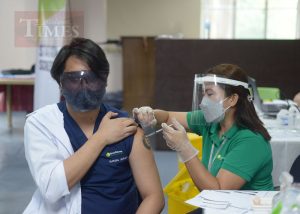 THE VACCINATION Cluster of the Davao City COVID-19 Task Force is just awaiting the guidelines from the Department of Health (DOH) central office on the rollout of the second booster shot for some sectors.
City COVID-19 Task Force spokesperson Dr. Michelle Schlosser bared this during the COVID-19 Alert on Wednesday, March 30, over 87.5 FM Davao City Disaster Radio.
She said, "We have discussed that during the COVID-19 Task Force meeting. We are just waiting for the guidelines from the DOH. Once we receive it, we will train vaccinators if duna'y kabag-ohan (if there are changes). We have to wait for the guidelines so we can roll it out."
Dr. Schlosser said the most vulnerable sectors will be prioritized for the second booster dose.
"Based sa atong data, most often than not, ang atong makakuha og severe type of COVID-19 kay ang mga senior citizens, sila pud usually naga-succumb to death. Mas maayong ma-protect sila with booster doses ang atong senior citizens ug persons with comorbidities (Based on our data, most often than not, our senior citizens contract a severe type of COVID-19 and they usually succumb to death. It's better to protect our senior citizens and persons with comorbidities)," she added.
Meanwhile, Health Undersecretary Myrna Cabotaje, in a recent Laging Handa briefing aired via PTV, said the DOH sought from the Food and Drug Administration an amendment to the emergency use authorization (EUA) for COVID-19 vaccines in the country, to allow their use as a fourth dose or second booster shot. 
She said the fourth dose will be first given to health care workers, senior citizens, and persons with comorbidities as they need to be strengthened with an additional shot while the country continues to fight the Omicron and other variants of concern that may arrive.
Once the amended EUA is approved and its guidelines finalized, Cabotaje said the rollout of the second booster shot could start by the last week of April.