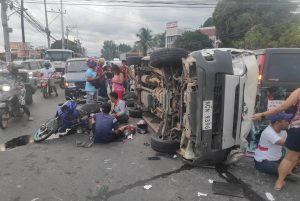 SIX INDIVIDUALS were injured after a van plowed through seven vehicles along Carlos P. Garcia Highway, at corner Tahimik Avenue in Matina Balusong at 5:20 p.m. on Wednesday, March 30.
Maj. Noel Villahermosa, the Talomo Police Station commander, identified the injured passengers as Irene Florida, 39, Pablo Araña Jr., 39, Gabriel Mercado, 27, male, and Crizel Sumadya, 22, all residents of Woodridge Subdivision, Ma-a.
Villahermosa said they were the passengers of a Toyota Hi-ace van driven by Mark Anthony Taunan Rivas, 31, a resident of M'Lang, North Cotabato.
Also, an injured passenger of Mitsubishi Adventure was identified as Christian Balmosino, 23, a resident of Matina Pangi.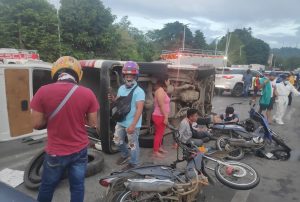 Another back rider of a Honda XRM motorcycle was injured and he was identified as Roderick Damayo, 26, male a resident of Buhangin. 
According to the report, the van was traveling from the south and heading northbound lost its control and hit the motorcycles, and runs over all other vehicles. 
The report said motorcycles were traveling along the northbound lane of C.P. Garcia highway proceeding Matina Pangi Bridge coming from the south direction.
Upon reaching the above-mentioned place of incident, the Isuzu Highlander coming from Tahimik Avenue executed a left turn going south (Bangkal) where a collision occurred when the van driver lost control.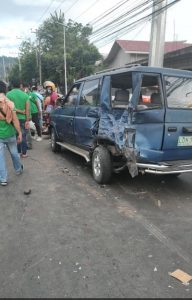 The vehicles involved included Yamaha Sniper Motorcycle with temporary plate M.V. File no. 0901-390325, driven by Raymond Cuadra Rupa, 35, a resident of Purok Mangga, Santo Niño, Panabo City,  a Kawasaki Fury motorcycle with temporary plate M.V. File no. 1101-376126, driven by Mark Anthony Raz Delos Reyes, 36; a resident of Mandug, the Yamaha Mio motorcycle with plate no. KC71550, driven by Alfred Cervantes Sta. Ana, 44, a resident of Catalunan Grande.
An Isuzu Highlander with plate no. LDN336, driven by Rey Arique Quimintan, 53, a resident of NHA, Ma-a, a Honda XRM motorcycle with temporary plate M.V. File no. 1101-693030, driven by Argie Ipaz Manligoy, 31, single, a resident of Barangay Langub.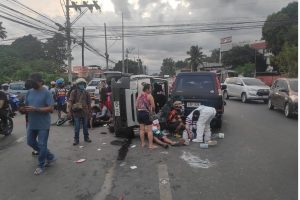 Others involved in the incident were Honda motorcycle with plate no. LCN74904, driven by Jerome Tuble Abordo, 38, a resident of Catalunan Grande, Mitsubishi Adventure with plate no. LGP525 driven by Erwin Abisia Laygan, 46, a resident of Visayan, Tagum City.
Six individuals in all vehicles sustained physical injuries and were brought by the responding ambulances of Central 911 to Southern Philippines Medical Center (SPMC) hospital for their medical treatment while all vehicles incurred an undetermined amount of damage.