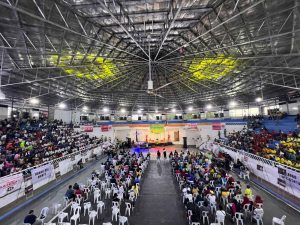 THE INDIGNATION rally by former rebels at the Davao City Recreation Center on March 29 has dampened the 53rd anniversary of the New People's Army, according to a military official.
The peace rally was organized by Sentrong Alyansa ng mga Mamamayan Para sa Bayan in partnership with the local government units of Davao De Oro, Davao City and Task Force Balik-Loob.
According to Captain Mark Anthony Tito, the 10th Infantry Division Public Affairs Office chief, the program gathered almost 1,500 former communist rebel leaders and members all over the region to show unity with the government in the quest to end the 53-year communist insurgency in Southern Mindanao.
Maj. Gen. Nolasco Mempin, the 10th Infantry commander, lauded the efforts of former rebels-turned peace champions during "A Celebration of Peace and Freedom of Former Rebels" indignation rally.
Mempin remains optimistic and confident that the insurgency problem will be eradicated in the area of 10ID before President Duterte's term ends. 
"This is a show of strength, dedication, and willingness for the awoken people. For five decades, these people became the milking cows of the CPP-NPA-NDF for their selfish agenda, which is to overthrow the existing government. This event marks the start of a new era for Southern Mindanao, with the people's support, the CTG was unable to conduct its anniversary in our area of responsibility," he added.
National Task Force to End Local Communist Armed Conflict Spokesperson Undersecretary Lorraine Badoy, in her message, thanked the former rebels for supporting the government.
"Marami ng namulat sa ating mga kababayan, isang isipang nabuksan na ay hindi na pwedeng sumarado ulit, kahit sino ang uupo na pangulo, tuloy-tuloy ang laban na ito at hindi na babalik ang CPP-NPA-NDF, pero kayo ang pinakatotoong laban dito (Many of our compatriots have realized, an open mind can never be closed again, whoever sits as president, this fight will continue and the CPP-NPA-NDF will not return, but you are the real ones against it)," Badoy added.