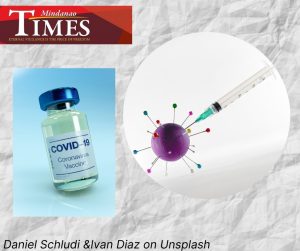 THE CITY COVID-19 Task Force has opened more sites to boost the turnout of the pediatric vaccination for 5-11 years old amid the start of face-to-face classes in the majority of public schools in the city.
Dr. Michelle Schlosser, the spokesperson of the Davao City COVID-19 Task Force, said aside from SM Lanang Premier, SM City Davao, Gaisano Mall Bajada-The Peak, Gaisano Grand Citygate in Buhangin, and Holy Cross Calinan, the vaccination hubs for pediatric population are also open at Tesda Korphil in Bunawan, Gaisano Capital in Mintal, and Gaisano Mall in Toril.
"We continue to educate and inform parents labi na sila ga-decide kung pabakunahan ilang mga anak ug labi na we are now going to have face to face classes (We continue to educate and inform parents since they are the ones deciding whether or not to have their children vaccinated, especially now that we are going to have face to face classes)," she told the City Information Office (CIO).
She said Davao City is still a long way off from hitting its pediatric five to 11 target population of 269,121. At least 12,608 or 4.68 percent have received their first jabs while 5,309 or 1.97 got their second doses, according to the Vaccination Cluster report.
The Davao City COVID-19 Task Force and the Vaccination Cluster continue to push for the rollout of the reformulated Pfizer .2ml vaccines designed for this age group.
Schlosser also reiterated the need for the 5-11 kids to get inoculated as a way to protect them from the infection of the coronavirus and against the severity of the disease. With a looming new variant that the national government is anticipating, the vaccination and booster shots, plus the wearing of face masks and proper hand hygiene, will counter any variant threat.
In a previous radio interview via 87.5 Davao City Disaster Radio (DCDR), she urged: "Unta mapabakunahan na ninyo ang inyong mga anak kay kining population age-group dili ga-wear og face masks, very carefree na maglakaw-lakaw ug dagan-dagan. Playful pa man gud ni nga ages. I hope maprotektahan nato sila by having them vaccinated po (Parents, please have your children vaccinated since this population age group does not want to wear face masks, very carefree and always walking and running. These are playful ages. I hope we can protect them by them having them vaccinated)."
The city health official added that it would be too risky for unvaccinated children to attend face-to-face classes as they have no layer of protection from possible COVID-19 infection and the severe symptoms of the disease. She also said that parents cannot be certain if their children will wear face masks in school at all times, hence, the only way to protect them is through vaccination.