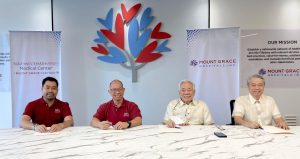 ELEVATING its reputation as a leading hospital in Cebu, Southwestern University Medical  Center (SWUMed) has inked an agreement with Mount Grace Hospitals, Inc. (MGHI) to further advance healthcare services and medical education by reaching out to communities in the Visayas region and neighboring provinces.
Under the partnership, Mount Grace Hospitals, Inc., a member of the United Laboratories Group, the country's largest pharmaceutical company, will be managing SWUMed from handling day-to-day operations, improving medical services, and providing exceptional training to next generation health professionals.
A 115-bed tertiary general hospital, SWUMed since its establishment has been a trusted leader in providing the community access to state of the art and affordable healthcare services. SWUMed is also the medical training arm of the Southwestern University PHINMA School of Medicine.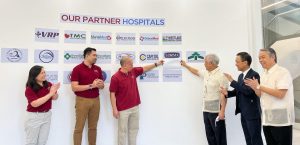 A ceremonial signing was held on February 18, 2022 at the Mount Grace headquarters in Mandaluyong with the executives of Southwestern University PHINMA led by its president Dr. Chito B.
Salazar and Mount Grace representatives headed by president and chief executive officer Mr. Carlos C.
Ejercito and executive vice president and chief operations officer Mr. Rhais M. Gamboa. 
"Our newly-formed agreement with SWUMed expands the reach of Mount Grace in Visayas and Mindanao. With this, we are able to bring in our medical expertise through a strong geographical presence in key urban areas in the country, making us true to our vision as stewards of health in communities around us," said Ejercito.
The event was followed by a virtual signing on February 21, 2022 with the Southwestern University PHINMA board of directors Ramon R. del Rosario, Jr., Magdaleno B. Albarracin, Jr., and Oscar J. Hilado.
SWU PHINMA Chairman del Rosario expressed his appreciation of the recent collaboration.
"We are delighted to have found an ally in Mount Grace. This partnership will let us bring the latest healthcare innovations and services to Cebu, position SWUMed at the forefront of healthcare and medical education, and enable more Filipino families to live dignified lives," he added.
The official turnover and announcement of the partnership is slated to happen this April in Cebu.
About Southwestern University Medical Center (SWUMed)
SWUMed is a tertiary general hospital that is committed to providing quality and af ordable medical care through its expert team of medical professionals and modern facilities.
It is also a reputable institution of learning that gives complementary training to students of the SWU PHINMA School of Medicine and allied health departments who endeavor to become the best physicians and allied medical practitioners to their fellow men and women.
About Southwestern University PHINMA Southwestern University PHINMA is an institution of higher learning that produces men and women equipped with the competencies and character needed to reach the heights of their chosen professions.
SWU does this through a practice-focused, relevant, and high quality learning process in a supportive environment, ensuring success through a confidence-building and empowering formation.
About Mount Grace Hospitals, Inc.
Mount Grace Hospitals, Inc., a member of the United Laboratories Group (UNILAB), is an expanding network of privately owned hospitals strategically located in key urban areas in the country. Mount Grace seeks to provide better access to better health to Filipinos through quality healthcare services by helping its partner hospitals acquire or develop appropriate facilities, systems, technologies, staff competencies, and clinical standards. Mount Grace now has 20 partner hospitals nationwide. For more information visit: www.mtgracehosptials.com.ph
About PHINMA Education
PHINMA Education Holdings, Inc. (PEHI), under the conglomerate PHINMA Corporation, started investing in the education services sector in 2004 through the acquisition of PHINMA Araullo University in Nueva Ecija. It has since expanded its presence across the country with its network of schools namely:
PHINMA Cagayan de Oro College, PHINMA University of Pangasinan, PHINMA University of Iloilo, Southwestern University PHINMA in Cebu City, PHINMA Saint Jude College in Manila, PHINMA Republican College in Quezon City, PHINMA Rizal College of Laguna, and PHINMA Union College of Laguna. It also aims to expand its mission to make lives better through education across Southeast Asia.
It presently manages Horizon Karawang, West Java, Indonesia through PT IndPhil Management. For more information, please visit: https://www.phinma.edu.ph.
About PHINMA
PHINMA Corporation is a Filipino-owned conglomerate with investments in education, property
development, hospitality, and construction materials