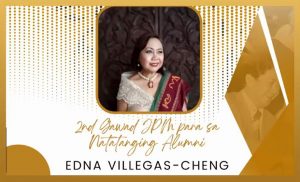 THE first time I met Edna Villegas-Cheng at an exhibition of her dear brother, artiste Arnel Villegas, you would readily have the impression that she is a woman of strength, courage and dignity.  A woman who values herself and is determined to fight for what she believes in.  Yes, talking to her about her "goals and objectives in life," you'd know that she wouldn't give up regardless of how many obstacles stand in her way.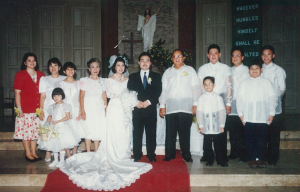 So it is not a surprise at all that Edna Villegas-Cheng, a proud Davaoena, is recognized as a University of the Philippines-Asian Institute of Tourism's (UP-AIT) Gawad Dr. Jose P. Mananzan Para sa Natatanging Alumni Awardee 2022.  This prestigious award "recognizes and celebrates the achievements of UP-AIT alumni for their contributions to their profession, community and country."  UP-AIT is the premier institution of tourism education in the Philippines.  It is the first school in Southeast Asia to offer a four year degree program leading to a Bachelor of Science in Tourism.  The institution's mission is to upgrade the travel and tourism profession by providing quality education and training to students who will be the industry's future leaders, managers,, entrepreneurs, and technical experts.  On the other hand,  considered as the "Father of Philippine Tourism Education and UP-AIT's Founding Dean" was the late Dr. Jose P. Mananzan who believed in the capabilities and potential of every AIT student.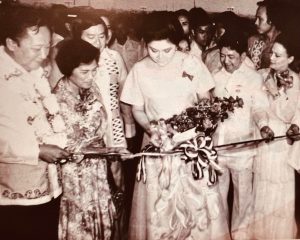 Edna Villegas-Cheng graduated from UP-AIT with Cum Laude honor distinction in 1983.  She was the High School Valedictorian in 1974 of the Immaculate Conception College of Davao City.  She then took a BS Industrial Management Engineering course at the De La Salle University in Manila and graduated in 1979.  The bright lady also has a Certificate Course in Management Continuing Education from the University of Massachusetts, USA, in 1985.
     It was in 1973 when Edna Villegas-Cheng's father, Quirino Villegas, developed an inland tourist resort in Maa, Davao City.  The 10-hectare farm was not only planted with durian, rambutan, pomelo and other tropical fruits but it was also an outdoor museum showcasing Philippine folklore, history and culture.  "Thus was born the first agri-tourism resort in Davao City.  To be able to run this nature paradise, my father hired me.  I felt I needed a solid background in tourism to be able to help my father realize his dream of a garden resort in Mindanao, the 'Land of Promise,' so I decided to enroll in UP-AIT with the aim to have the excellent training I needed to manage the resort of my father's dream.  It was one of the best decisions I made to carve out my career path…With the strong foundation I got from UP-AIT, I was sure to succeed in my chosen career path," revealed Edna Villegas-Cheng.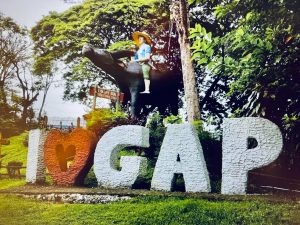 After managing her father's resort called GAP Farm Orchard Resort for three years, Edna Villegas-Cheng decided to leave to realize her own dream of "seeing the world."  "It was in New York City where I spent most of my career as a tourism professional particularly in the field of Hotel Management.  All the knowledge and skills I learned from UP-AIT was put to good use and even better in an excellent manner.  I was able to rise from the ranks to become manager in the best hotels of New York City like the Waldorf Astoria Hotel, New York Hilton Midtown, Empire Radisson Hotel, Suites at Liberty View, and Bristol Plaza….I lived the American dream and proved to the world that if I can make it in New York, I can make it anywhere,"  commented Edna Villegas-Cheng as she added, "Now that I am back in the country with valuable knowledge I got from my New York experience, I have many goals in mind to further improve our GAP Farm Resort and make it a premier destination of our city. My second goal is to become a serial entrepreneur by establishing multiple income streams by partnering with colleagues with the same entrepreneurial spirit like mine so we can provide employment to our fellow Filipinos."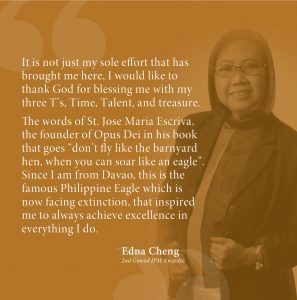 "I would like to thank God for blessing me with time, talent and treasure. The words of St. Jose Maria Escrivo, the founder of Opus Dei, which goes, 'Don't fly like a barnyard hen when you can soar like an eagle,' inspires me always to achieve excellence in everything I do," said Edna Villegas-Cheng.  Admirable woman, indeed.