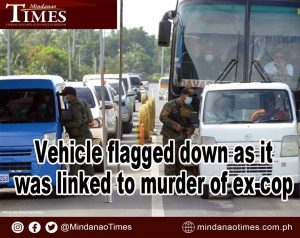 PERSONNEL of the Task Force Davao supervising the Sirawan checkpoint on Monday dawn stopped a vehicle from entering the city after it was identified as the one used in the killing of a retired police officer in Cotabato City on Saturday.
Captain John Louie Dema-ala, spokesperson of Task Force Davao, said the Suzuki Transformer mini van, bearing plate number MAV 3543, was allegedly used in killing retired police officer Rolen Balquin, Cotabato City Public Safety officer at the time of his death, on Saturday. The vehicle was allegedly used by the perpetrators in escaping the crime scene.
The checkpoint immediately stopped the vehicle as it matched the description of the one in a closed circuit television camera footage recovered near the incident.
The TFD personnel then informed the Cotabato City Police Office about the vehicle which was immediately turned over to the police office, one of the agencies conducting the investigation on the killing.
Based on the report, the killers shot Balquin and his escort, Chief Master Sgt. Arial Gutang, as they were stepping out of their vehicle to inspect the implementation of the minimum public health standards at a newly-opened establishments when the killers attacked them.
The two both sustained gunshot wounds as Balquin eventually died while his escort was brought to a nearby hospital for treatment of his wound.