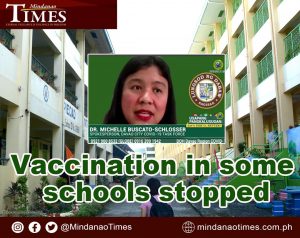 THE city government has started closing down classrooms used in the vaccination rollout as schools have been preparing for the resumption of face-to-face classes.
Dr. Michelle Schlosser, COVID-19 Task Force spokesperson, however, said that there are still more vaccination hubs that are ready to cater to those who have yet to get their doses, either first, second or booster.
Schlosser said it is necessary to vacate the classrooms so that the transition to in-person classes will be smooth.
"The reason behind this kay ang DepEd (Department of Education) magbalik na ang face-to-face classes. Dapat in one of their preparations, they will take their schools back especially tong gigamit nato sa vaccination sites," she said.
Among that were closed down as vaccination hubs were the Magallanes Elementary School (ES), F. Dizon Elementary School, Matina Aplaya Elementary School, Buhangin Central Elementary School, Malagos Elementary School, Mintal Central Elementary School and =Maa National High School.
She added that among those that have continued operations for vaccination are the People's Park and Crocodile Park.
""Hopefully, ma put up na ang Magsaysay Park for 12 and above adult vaccinees," she said, adding that these two hubs are open even on Saturdays.
Other sites that continue to operate are those in SM City Davao, SM Lanang Premier, Gaisano Mall Bajada, Abreeza Ayala Malls, Gaisano Mall Toril, Gaisano Mall Calinan, and Gaisano Mall Tibungco.