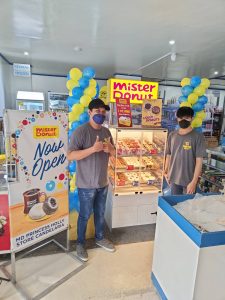 MISTER Donut has launched a new franchising concept tailored for convenience stores, community groceries, and supermarkets that are looking to add its well-loved doughnuts and other baked products to their offerings.
The Mister Donut "Mini Cart Franchise Package" is in response to inquiries and requests that grocery owners and operators are getting from customers who want Mister Donut included in product offers that they can choose from when they shop for their essentials and daily needs.
"When inside convenience stores and supermarkets, Mister Donut becomes not only a quick fix for snacks, and sweet cravings, but also a pasalubong that customers can add to their cart before they check out," Cherryl B. Carino, franchise management head at Mister Donut Philippines, said.
The Mister Donut "Mini Cart Package" is being offered exclusively to owners of supermarkets, convenience stores, and community groceries. The minimum space requirement for the cart setup is 3 square meters.
The all-in package is P125,000, including the franchise fee, Mister Donut mini cart, donut storage cabinet, display trays and donut tongs, and mobilization. A refundable P25,000 product deposit is also required.
"At this time when consumers still limit the frequency of their trips outside, it is best to maximize their spending through offers that are known to them, and they truly love, particularly donuts, baked bread, and instant drinks, products that Mister Donut is known for. Those interested to apply for Mister Donut franchise can email us at fms@misterdonut.ph," Carino added.
Mister Donut has been in the franchise business in the Philippines for close to 40 years, with its adaptable business format promoting continuous operations, marketing, training, and business development support even in areas under stricter quarantine.PR