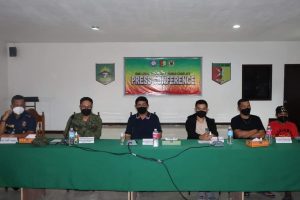 A FORMER secretary-general of Pasakaday Salugpongan Kalimodan (Pasaka) and two other members of the New People's Army (NPA) surrendered to the troops of 701st Infantry Brigade after a series of encounters in Mati city.
701st Infantry brigade commander, Brig. Gen. Oliver Maquiling, identified them as Christony Jun Latiban Monzon known as Jong Monzon, 29, resident of Sitio Kaanislagan, Barangay San Jose, Boston, Davao Oriental, the 2nd political instructor, Regional Operations Command (ROC), Southern Mindanao Regional Committee (SMRC), former secretary-general of "Pasakaday Salugpongan Kalimodan" (Pasaka) in Davao Region; Datu Mentroso Tumagsa Malibato, 50, 
married, a resident of Barangay Gupitan, Kapalong, Davao Del Norte, platoon supply officer, and former vice chairman of Internal Affairs of Pasaka in Davao Region; and Danny Tiklunay Malibatu, 32, single, a resident of Barangay Gupitan, Kapalong, a political guide.
According to Maquiling, the three NPA members of the SMRC's Regional Operational Command who figured in a series of combat engagements with the troops of the 1001st Infantry Brigade surrendered to the adjacent 701st Infantry Brigade. 
He said the surrender was made possible through the assistance of Boston Municipal Councilor Podit Modista Monzon Paguyan, and IPMR, JP Lampig, Boston municipal councilor who brought the returnees to 701st Brigade and Davao Oriental Governor Nelson L. Dayanghirang on March 8.
Accordingly, they expressed that hardship, hunger, and fear of dying in a combat engagement led them to surrender. Hence, they escaped from their group and left their comrades at Andap, New Bataan, Compostela, Davao de Oro on the evening of March 6. 
Monzon then contacted her aunt to assist them to surrender to the soldiers.
They also revealed to soldiers that they were part of the NPA formation which figured in a series of encounters with troops of the 1001st Infantry Brigade in the area of Davao de Oro. 
Monson also revealed that before becoming a full-time member of NPA, he was active in organizing various NPA-run community schools and facilitating IP Bakwits at UCCP Haran in Davao City as the secretary-general of Pasaka. 
He also revealed that Chad Booc was with them when their group engaged government troops in a series of encounters at Andap, New Bataan, Compostela, Davao de Oro which led to the death of their comrades including Booc.
Maquiling thanked the stakeholders who exerted effort to recover their relatives and assisted them in their surrender. He also expressed his deep gratitude to Dayanghirang who facilitated the surrender.
The brigade commander also underscored that "the government is more than willing to accept and assist the few remaining NPA members who wish to help themselves by going back to the mainstream society living normal and peaceful lives."