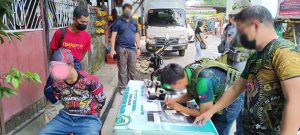 AROUND P1.5 million worth of shabu were seized from a 24-year-old man in a buy-bust operation conducted in Pag-Asa Street, S.I.R. Phase 2, Barangay 76-A, at 2:30 p.m. on Saturday, March 12
Aileen Lovitos, the director of Philippine Drug Enforcement Agency (PDEA) XI, identified him as Alfred John Conde, married and a resident of Madapo Hills, Bankerohan.
Conde was arrested by a PDEA agent who acted as poseur-buyer. The undercover agent received the drugs in exchange for P25,000.
The operation was led by the Philippine Drug Enforcement Agency XI, together with the National Bureau of Investigation South Eastern Mindanao Regional Office (SEMRO) XI. It also resulted in the confiscation of four sachets of suspected shabu weighing more or less 100 grams with estimated street value of P1,500,000.
She said the motorcycle used in the illegal drug transaction was also confiscated.  
The suspect faces a charge for violation of Section 5 (Sale of Dangerous Drugs) and Section 11 (Possession of Dangerous Drugs), Article II of Republic Act 9165 (Comprehensive Dangerous Drugs Act of 2002).
Bus passenger falls
for sneaking in shabu
Meanwhile, a bus passenger was arrested by authorities after more than P20,000 worth of shabu was seized from him while passing through a checkpoint in Lasang, Bunawan district on Saturday, at 1:40 pm on March 12.
The joint personnel of the Task Force Davao and Davao City Police Office identified the subject as Roy Genosas Natores, 41, married, a resident of Purok Lemonsito, Mankilam, Tagum City.
According to Capt. John Louie Dema-ala, the Task Force Davao spokesperson, authorities intercepted a sachet of suspected shabu from him during the mandatory inspection.
The contraband reportedly weighs around 1.73 grams with an estimated street value of twenty-seven thousand six hundred eighty P27,680, the report said.
The suspect was immediately turned over to Bunawan Police Station for proper disposition.