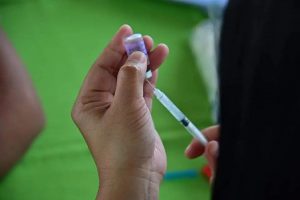 THE 25 vaccination sites in the city are still open for Davaoeños who need to get first, second, and booster doses, including a missed dose of the anti-COVID vaccine.
The COVID-19 Task Force has continued to encourage people to avail of the anti-COVID vaccination as the city government relaxes its restrictions. 
City COVID-19 Task Force spokesperson Dr. Michelle Schlosser said that the city still has enough supply of vaccines and it aims to take its vaccination drive further.
"Ang vaccination mao ang atoang pinaka-drive karon. Naga open policy ta, ang directive nato is economic recovery pero this is with emphasis nga kinahanglan mabakunahan kung makaya nato ang 100 percent sa atoang population. And also dili lang mabakunahan ang 100 percent dapat ma-booster pud ang tanang fully vaccinated individuals (The vaccination is still our main drive. We may have an open policy, and our directive is economic recovery this is with emphasis that everyone should be vaccinated – 100 percent of the population if we can. We also aim that all should be fully vaccinated individuals and get booster dose)," Schlosser said.
She encouraged the public to get the booster dose as this is as important as having the first and second doses.
"We remind everyone that we need to have a booster dose. Gwapo ang atoang output for the first and second dose pero ang booster dose medyo admittedly hinay gyud siya. Dili lang unta makalimot ang tao nga kinahanglan gyud ang booster dili lang sa COVID-19 vaccine, even ang atoang routine vaccines naa gyud siya'y booster (We remind everyone that we need to have booster dose. Our output for the first and second doses is good, however, for our booster dose admittedly, it is really slow. Everyone should be reminded that having a booster dose is important not only for Covid-19 vaccine but even to our routine vaccines have booster doses)," she said.
As of March 7, 2022, Davao City has achieved 86.20 percent vaccination rate for the first dose and 84.19 percent for second dose of the target 80 percent of the city's population. The 80 percent of the city's population is 1,518,288.
For the booster doses, the city also administered 16.80 percent of the total number of fully-vaccinated individuals.
Schlosser said that the city also plans to roll out weekend vaccination drive in two pilot areas – Davao City People's Park and Crocodile Park to cater to those individuals who cannot go to the vaccination sites on weekdays.
The training of additional personnel that will serve on weekends in these sites is already ongoing.