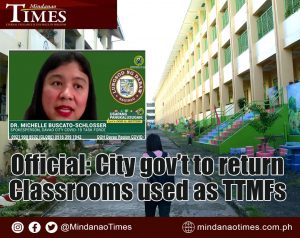 THE city government is returning to schools classrooms that have been used as temporary treatment and monitoring facilities (TTMFs) as part of the fight against COVID-19.
Dr. Michelle Schlosser, COVID-19 Task Force spokesperson, said the move will allow schools to prepare for face-to-face classes.
"As you notice our positivity rate is less than 2 percent. So we have to close TTMFs, especially schools because they have been preparing for the face-to-face classes. Ihatag na gyud nato ug balik sa eskwelahan. Ang pinaka-unang ipang-close nato ang school TTMFs but we will still open some TTMFs," Schlosser said as the city government used the classrooms for COVID-19 patients since the start of the pandemic in March 2020.
With some of the TTMFs converted back to classrooms, the city government has allowed patients to undergo home isolation, including those who were infected and symptomatic, provided they comply with the standards under Executive Order 11 that Mayor Sara Duterte signed on March 7. 
Schlosser, on the other, said the city government, through the vaccination cluster, has discussed with the Department of Education the use of schools as vaccination sites.
Duterte earlier said in another executive order that the city is supporting the resumption of face-to-face classes.