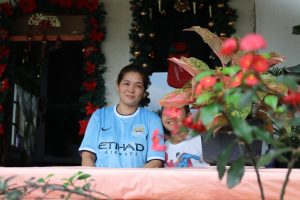 (ICRC Davao) – Caring for a child with special needs is a challenge for any parent, but for 38-year-old Analyn Repdos, the assistance of family and community has given her hope that life could become better for her son, JP, who has cerebral palsy. Through the help of the Davao Jubilee Foundation, a non-profit supported by the ICRC Philippines in its goal of rehabilitating the disabled, JP has learned to make full use of his legs. After years of being unable to walk, he now enjoys a favorite pastime of Filipino boys: playing basketball.
In an interview with the ICRC, Repdos talks about how she remains optimistic despite the numerous struggles that she and her son have faced.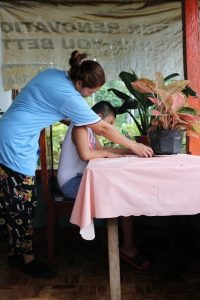 Where do you draw your strength from or what keeps you going every day?
"I get my strength from my family, especially from my husband. We help each other out in everything we with deal in life. We are both hopeful individuals and always maintain high fighting spirits whenever we face problems in life. As much as we can, we want to provide for the needs of our two sons because we want nothing but the best for our family. I love my children and they are my source of inspiration.
I also maintain my close relationship with God. I often go to our chapel and get actively involved with its activities. Being faithful and believing in God, that he has set all his plans in our favor, is something that I bring with me every day to remain positive."
What challenges or setbacks have you faced?
"Since I was a child, we always had a challenging life. My father`s income is barely enough to support our family`s needs, which is why having problems is not something new to us. But now, during my married life, our entire family is all focused on the welfare of my son, JP, who was diagnosed with cerebral palsy when he was only a year and five months old.
Upon learning about his situation, I felt helpless. It was painful and we do not know where to get the funds for his therapy. It was a problem that we initially did not know if we could surpass. But we gathered all the resources that we can get to improve my child`s condition.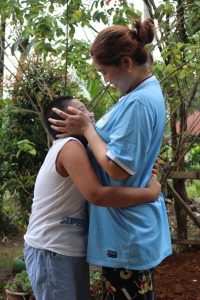 I remember how my family and in-laws helped us during those times. My youngest sibling, who has a decent job, took care of most of the piled-up bills in the hospital. He even sold his car in order to pay for my son's expenses, and I find it very touching that he never bothered to ask us to pay him back. My family understood the difficult situation we are in and I couldn't be more thankful, most especially to my husband who is my partner since the beginning. He and his parents gave their all-out support.
[But] sometimes, when we ride a jeepney to go to JP`s therapy, people stare at him from head to foot. It pains me as a mother. I feel that he is being judged. But at the end of the day, I keep a positive attitude and remind myself not to get bothered. I must admit, there were moments that I even questioned God for giving us these trials considering that we are not financially well-off. But I keep my faith strong because I will do everything for my son. I learned to accept my circumstances. I know that God would never give us problems that we could not handle.
When JP started walking at four years old, I remember how happy I was. He has greatly improved now compared to his condition before. Today, he is currently enrolled in a school for special children. I remain hopeful and positive about our situation and that JP will eventually recover. What is also more relieving is the fact that I am not alone in this fight and my whole family is with me in giving due care for my son. As I age and as my son grows up, I don`t want to miss every opportunity in showing my love and care for him." (Melrick V. Lucero, Communication Officer, ICRC Davao Sub-delegation (0966-880-1702)