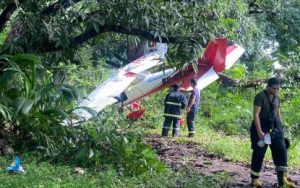 THE pilot and his student suffered abrasions on their heads as the training plane they were using crashed near the airport in Mati City, Davao Oriental Monday morning.
Leoj Mara of the Mati City Disaster Risk Reduction and Management Office told Times that pilot Manuel Rafis Meyra and student Jeremiah Casamura Agonia were discharged from the hospital shortly after lunch.
Mara said the two were nowhere to be found when rescuers went to the crash site, which was just a few meters away from the non-operational Mati City Airport, which was formerly named Imelda Marcos Airport after the late President Ferdinand Marcos built it about 40 years ago.
Mara said based on an initial information, the plane, a Cessna, "took up, then stalled and later crashed onto the mango trees."
"We later found out that they (pilot and student) went to a hospital to get treated for abrasions on their heads," said Mara as the Civil Aviation Authority of the Philippines has sent a team to investigate the incident.
The plane was used in training flights between the cities of Mati and Davao.