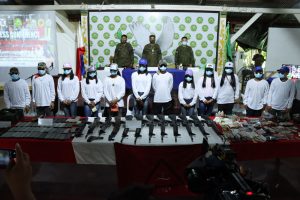 ANOTHER New People's Army (NPA) group operating in Davao de Oro collapsed following the surrender of their leader and members to the 1001st Infantry Brigade in Purok 4, Barangay Kidawa, Laak, Davao de Oro on Feb. 26.
The military identified them as Renard Galos Catarata, commanding officer of Guerrilla Front 3 Sub-Regional Committee 4, Southern Mindanao Regional Committee (GF3, SRC4, SMRC), together with 12 others.
Capt. Mark Anthony Tito, the 10th Infantry Division Public Affairs Office (DPAO) chief, said 
upon their surrender, they also brought 12 assorted high-powered and low-powered firearms, several rounds of ammunition of different calibers, and subversive documents.
The series of negotiations were conducted by the combined elements of the 60IB and 25IB under the 1001st Infantry Brigade, which led to the surrender of the 12, Tito said.
He added that the relentless focused military operations were conducted within the boundaries of Laak, Davao de Oro, and Loreto of Agusan del Sur since October last year resulting in a series of armed engagements against the communist rebels, which eventually cause their surrender.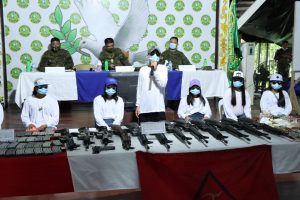 According to Catarata, their food supplies and physical strength were exhausted due to the relentless military operations in the area. "Wala na mi padulngan, wala nay pagkaon. Wala napud masa nga muhatag (We have nowhere to go, no food supplies coming in. The masses also refused to help us)," he said.
"Low moral na akong mga tao kay bisan asa nga prente, puro kapildihan ang naangkon. Sige lang hilak akong mga sakop. Wala napud insakto nga lider nga nagdala sa SMRC, mao nagdesisyon mi nga mo-surrender nalang – kaysa mahurot mi kamatay (The state of morale of our troops is very low due to setbacks suffered by the movement in every front. SMRC further experienced a leadership vacuum, and we have no one to seek guidance to, that's why, we decided to surrender to avoid certain death)," he added. 
Brig. Gen. Jesus P. Durante III, the commander the 1001st IB, lauded the troops' accomplishment.  "This is yet another milestone to our campaign in ridding of the five-decade-long deceptive and terroristic acts of the CTG. I congratulate all the members of Team Pag-asa Brigade for painstakingly accomplishing the missions given to us. After all, this is not just our accomplishment but also of the government and the peace-loving people we ought to serve," he added.
Moreover, Maj. Gen. Nolasco A Mempin, the 10ID commander, said that "this will have a huge impact to the CPP-NPA, noting that Guerrilla Front 3 is one of the pioneer guerrilla fronts in the entire country, this will have a domino effect in the whole area of responsibility of 10ID, especially to the few remaining guerrilla fronts."  
Mempin said that this mass surrender is a crystal-clear manifestation that indeed, Agila Division is winning against the communist Insurgency here in Southern Mindanao while thanking all the stakeholders, especially the Task Force in Ending Local Communist Armed Conflict for the overwhelming support and contributions.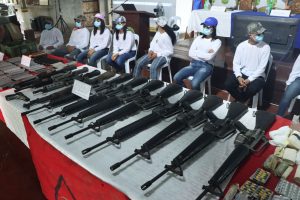 Meanwhile, the rescued personnel immediately underwent medical check-up and swab tests to ensure the good condition of their physical health. 
Currently, the are still undergoing custodial debriefing and will be enrolled to the Enhanced Comprehensive Local Integration Program (ECLIP) – a government intervention to aid them as they reintegrate into mainstream society.