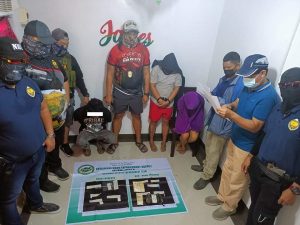 LAW ENFORCERS arrested three individuals in a buy-bust operation conducted at Deca Homes Talomo, Baliok, on Wednesday, March 3.
The arresting officers also seized P150,000 worth of shabu from suspects Jimmy Buntog and John Arthur Villas, according to Aileen Lovitos, the director of Philippine Drug Enforcement Agency (PDEA) XI.
Lovitos said the two were arrested for conspiracy of selling a sachet of suspected shabu worth P 3,000 to a PDEA agent who acted as poseur-buyer.
Also arrested was Gerra Mae Calago, the live-in partner of Buntog, for possession of dangerous drugs, drug paraphernalia, and use of dangerous drugs.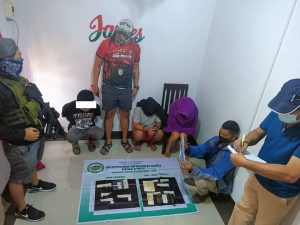 The joint elements of the Regional Special Enforcement Team (RSET) of the Philippine Drug Enforcement Agency Regional Office XI and National Bureau of Investigation South Eastern Mindanao Regional Office (SEMRO) conducted the buy-bust operation.
The report said that three sachets with suspected shabu in different sizes weighing more or less ten grams, assorted drug paraphernalia, several empty plastic sachets with suspected shabu residue, buy-bust money, and boodle money were also seized during the operation.    
John Arthur Villar was previously arrested for selling illegal drugs last Nov. 18, 2018, and availed of plea bargaining. He was released last April 2021. 
The suspects will be charged for violation of Section 26 in relation to Section 5 (Attempt or Conspiracy in the Sale of Drugs) Section 6 (Maintenance of a Drug Den), Section 7 (Employees and Visitors of a Den), 13 (Possession of Dangerous Drugs During Parties, Social Gatherings or Meetings,) and Section 14 (Possession of Equipment, Instrument, Apparatus and Other Paraphernalia for Dangerous Drugs During Parties, Social Gatherings or Meetings), Article II of Republic Act 9165 ( Comprehensive Dangerous Drugs Act of 2002).