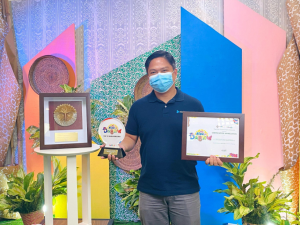 ABOITIZPOWER subsidiary Therma South, Inc. (TSI) is lauded for the fourth time as the number 1 Real Property Tax Payer in Davao City during the Pasidungog: Garbo sa Dabaw 2022.
"We are thankful to the City of Davao for recognizing TSI as one of the top taxpayers in the city. We will continue to fulfill our obligations as we persevere to advance business and communities in the years to come", said Abe Nisnisan, TSI Plant Facility Head, after receiving the token of appreciation.
The awarding ceremony is one of the official activities for the 85th Araw ng Dabaw this year and aims to give honor to private companies, organizations and individuals that contributed to the success of Davao City's programs and initiatives.
AboitizPower was also awarded as a top contributor for the Urban Infrastructure and Housing Resettlement development category during the event.
The local government unit of Davao City commends the efforts and contribution of the individuals and organizations that helped Davao City become what it is today. "Your continued partnership with the city has led to considerable accomplishments and has enabled the city to expand its services to its people," said April Marie C. Dayap, Officer-in-charge, Davao City Investment Promotion Center in her closing remarks.
Due to the ongoing pandemic, all Araw ng Dabaw festivities will be digitally celebrated. The awarding ceremony premiered on March 1, 2022.
TSI was also recognized as 2nd Top Taxpayer for 2021, just behind Davao Light, also a business unit of AboitizPower.