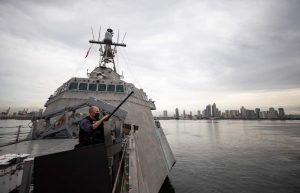 CAMP AGUINALDO, Quezon City–The United States Navy's littoral combat ship Uss Tulsa is in Manila since Feb. 24 for a regular port call.
According to Colonel Jorry Baclor, the Public Affairs Office chief of the Armed Forces of the Philippines (AFP), the vessel was granted diplomatic clearance by the Department of Foreign Affairs and is currently undergoing replenishment and maintenance. 
Last Tuesday, Feb. 22, the United States Navy's 7th Fleet, Vice Adm. Karl Thomas, visited the Philippine Navy headquarters to meet with Flag Officer In Command, Vice Admiral Adeluis Bordado.
The visit reaffirmed the two navies' partnership and cooperation, with the two leaders emphasizing a "free and open Indo-Pacific region."
The USS TULSA is expected to leave the Port of Manila as soon as the ship replenishment and maintenance are completed.