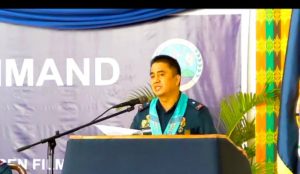 THE DAVAO Police Regional Office will have a new chief today, March 3, in a change of command ceremony held at its headquarters in Camp Sgt. Quintin Merecido, Buhangin district.
Brig. Gen. Benjamin Silo Jr., from the Philippine National Police (PNP)- Information Technology Management Service (ITMS) will officially assume today as the new director of PRO XI.
Silo will replace the outgoing director, Brig. Gen. Filmore Escobal, who is assigned to the Area Police Command- Eastern Mindanao (APC-EM) as acting deputy chief.
Maj. Eudisan Gultiano, the PRO XI spokesperson, told TIMES on Wednesday that the movement was prompted by several retirements of PNP senior officers from service.
Escobal has served the Police Regional Office XI more than two years since his assumption last October 2019.
During his term, Escobal has many accomplishments including the Revitalized Pulis Sa Barangay ( R-PSB) program, the establishment of Mindanao Police Training Camp, the establishment of Camp Sgt. Quintin Mericido Hospital, Regional Integrated Command Center.
Meanwhile, Silo served as chief of police of Orion, Abucay, Mariveles, and Balanga City.
He also became the chief for the investigation of the Criminal Investigation and Detection Group (CIDG) in Camp Crame from 2012 to 2014.
From June 2014 to November 2015, he became the regional chief of the CIDG Bicol region before he assumed office as CIDG regional chief for Central Luzon. He also served as the provincial director of the Bataan Police Provincial Office and later transferred to Northern Police District as deputy district director for administration.
During his reign as the Bataan Police Director in 2016, Bataan was declared as the first "drug-cleared" province, three months ahead of the national government's target date. Silo passed the bar exam in 2007.