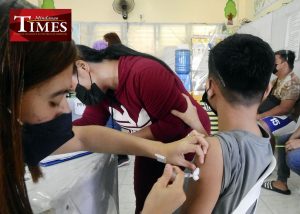 THE city government has allayed the fears of parents as it assured them the vaccines used for children against COVID-19 are safe.
To illustrate her point, Dr. Michelle Schlosser, spokesperson of the COVID-19 Task Force, attributed the short period of surge to the vaccination program. 
"Remember kadtong wala pata'y bakuna before, our surge would go up to three to four to five months, but this time it is less than two months. It is because the vaccines work," Schlosser said as she pointed out that there was no major side effects recorded since the rollout of the program.
"Naay tulubagon ang gobyerno and vaccinator themselves. As of today wala pa ta'y namatay tungod sa bakuna. Yes, there are minor adverse events but they are actually expected pero walay namatay," she said.
She said vaccines against COVID-19, like any other vaccines for other diseases, are for protection of the children.
The city government has started the rollout of the vaccination for children between five and 11.
She said experts who are behind these vaccines made sure that these are not harmful. "Ang eksperto ilaha na nang gi-studyhan mismo na dili siya makadaot sa tao," Schlosser said.