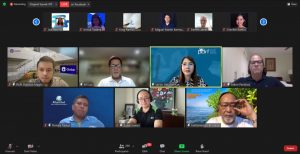 WEATHER disturbances are becoming stronger and more devastating, as seen in the wake of catastrophic storm Odette, which destroyed houses and critical infrastructure in parts of the country last December.
The situation spotlights the urgency for essential utilities such as power, telecommunications, and water lines to prepare for and build resilience against future devastating storms.
As parts of Southern Luzon, Visayas and Mindanao continue to reel from Odette's impact, the Liveable Cities Lab found it timely to hold the webinar "Road to Resilience: Preparing Our Communities for Natural Disasters," where humanitarian and utility experts addressed short-term and long-term measures for building basic service resilience in badly-hit areas.
Rofil Sheldon Magto, Globe Communications manager for Visayas and Mindanao, said the company is pursuing a three-pronged strategy: continuous network investment in more resilient infrastructure to ensure seamless connectivity, digital transformation, and stakeholder engagement.
In cases when facilities are severely-damaged, Globe has additional network and logistics support such as Cell Site on Wheels (COW), Tower on Wheels (TOW), Genset on a Truck, Mobile Communications Command, satellite phones, and radios. It also promotes digital inclusivity by providing services beyond telco and empowers customers through various digital platforms so they can extend support to typhoon victims.
Globe creates value through institutional partnerships and local government collaboration. It also proactively informs customers and external partners about disaster preparedness through social media reminders, geo-tagged SMS alerts, and cellular broadcasts.
"Globe sees the value of collaboration and continues to leverage on collective efforts and business partnerships, including local government units who can help provide areas for Libreng Tawag and Charging stations, extend assistance in terms of right-of-way for wireline restoration, and push for power restoration in affected areas," said Magto.
Due to very strong winds, Odette left many areas without power. As of the end of January, Visayan Electric reported over 2,500 damaged poles, more than 450 broken distribution transformers, and over 330 circuit kilometers of downed power lines.
"When a natural disaster like Typhoon Odette strikes with severity that no single corporation can handle, collaboration really is the way to go," said Anton Perdices, SVP and COO of Aboitiz Power Corporation, which owns Visayan Electric.
"If there's one major takeaway from all of this, it's that there is real strength in synergy. From initial response up until today, we continue to work together and see results that are more effective than if we worked alone," Perdices concluded.
To avoid a repeat of the Odette experience, Aboitiz Power is willing to explore mechanisms that would make underground distribution systems commercially viable. It is already piloting underground utility lines in the cities of Cebu and Davao.
Another resilient power system feature highlighted was the role of embedded generation within a distribution utility's franchise area, such as how helpful AboitizPower's oil-fired power plant was in the aftermath of the typhoon. The power plant, operated by the Cebu Private Power Corporation, became the first source of power in Cebu since main transmission lines were down and power was not flowing into the city from generation facilities. PR