"YOU are invited to a Memorial Mass for tito Boy Guinoo as we celebrate his 88th birthday this February 17, 2022, at the Alfonso Guinoo Museum in the JIB I-CHEF Building," was the message sent to me by the most beloved and ideal daughter tito Boy wished he had in the person of Davao's fashion icon, Purita Arsenia "Joji" Ilagan-Bian, the Honorary Consul of Bangladesh in Mindanao.
     "This is truly a special day to celebrate and remember our dear tito Boy. I truly miss his laughter and his stories.  As often as he could, tito Boy would call me up with the latest chismis he just had to share.  Oh yes, he found joy in even the little things in life.  A simple act like a brief visit of a friend to him in his shop would bring him so much happiness.  He appreciated people who showed him compassion when he got seriously ill," so said tito Boy's fashion muse whom he loved to dress up like his very own living Barbie Doll.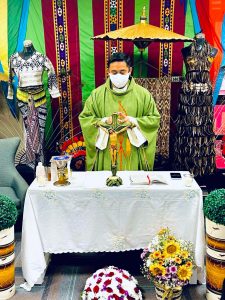 Present in the Holy Mass officiated by Rev. Fr. Leif Simbajon were tito Boy's Angels namely Lena Benedicto, Evelyn A. Magno, Lilian Robillo, Bebot Estanislao and of course, tito Boy's "Yaya for All Seasons" Celine Sordilla.  Lou P. Almendras, Baby M. Montemayor and Leticia R. de la Paz participated by being on their respected computer or laptop to follow the proceedings that afternoon.  After the mass, the group then went to Lena Benedicto's Rekado Restaurant for merienda where everyone enjoyed sharing their memories of their unforgettable moments with tito Boy.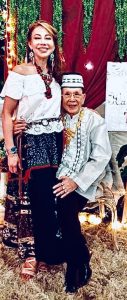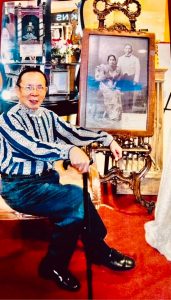 For more than five decades, the veteran designer Boy Guinoo successfully cultivated clients among the wealthy and beautiful women of Davao with whom he socialized with.  He was the only designer who managed to dress up five generations of Davaoenas since he opened his dress shop in 1956.
     The Guino-o fashion creation was definitely for the woman who wanted to make the "Who is That?" entrance.  And immediately, Joji Ilagan-Bian, Guinoo's iconic muse, comes to mind.  The overriding theme of tito Boy was always on the richness of our indigenous people's culture. Boy Guinoo loved and was proud to showcase the various Mindanaoan tribes' painstakingly hand-woven fabrics of life which reflect the weavers' reverence for nature.  "I've always distinguished myself with my signature Mindanaoan collection wherever I go," the  veteran designer would proudly proclaim.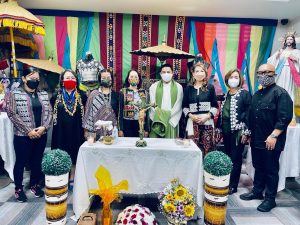 Boy Guinoo's designs reflected the influence of the various tribal groups of Mindanao which he compiled and synthesized, as in fusion fashion, to a point that it became sophisticated.  Let's hand it to the veteran designer who effectively distilled the essence and simplified traditional wear; and made it representative of the Bagobo, Mandaya, T'boli and the other tribes.  Definitely, Guinoo's fashion always took a patriotic slant since the designer's Bayanihan interlude.  
     "As compared to the tribal costumes of the other regions of the country, Mindanao's tribal wears are more outstanding in terms of their varied colors, textures, magnificent hand-woven fabrics, and regal designs.  They'll standout from the rest," he proudly proclaimed.
     And to think that Davao's most prominent fashion designer had only one goal.  He stated, "I want and I am determined to make women beautiful and glamorous. I never tire of dressing up women to make them desirable and fashionable.   On the other hand, it is the husbands' responsibility to undress them!"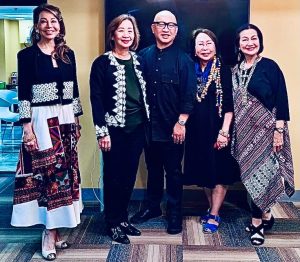 It was in 1956 when the young Alfonso "Boy" Guinoo opened his small dress shop in the city.  In 1958 to 1962, he traveled as an official member of the Bayanihan Dance Troupe to Europe and the United States.  Guinoo crossed between different creative worlds since that time.  He clearly saw something to improve upon that he spent the last five-plus decades combining art, dance, music and fashion into a daring multidisciplinary practice.  Undoubtedly, Guino-o was truly one of the most influential in the field of fashion in Mindanao.  He pushed boundaries in order to reach daring Filipino consumers all over the globe.  He explained, "All my clients are fascinating women.  They have their own style, their own personality, their elegance.  They want explosive fashion.  My collections have always been a celebration of the female's form, self-confidence and erotic allure." 
     Guino-o's creativity as a designer was counter-pointed with the clinical realism of an astute businessman.  This talent was his weapon that he managed to survive through all the years and truly earned the title as "Fashion Czar of Mindanao."  
     May you rest in everlasting peace, tito Boy.