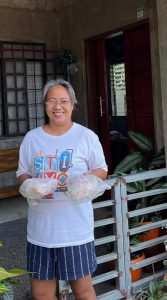 DATING back to past centuries, it has always been our ancestors' priority to secure a safe and stable place to live in. Even when times have changed, our basic needs haven't. Having a roof over our heads provides great assurance to us and our family. For Ma. Cristina Baniqued, a home is one of the things she needs to invest in when she joined CARD MRI as a member. 
As ilaw ng tahanan of her home in Brgy. Amandiego, Alaminos City, Pangasinan, Cristina has always looked out for her family, seeking what is best for them. It was this thinking that urged her to join CARD, Inc. (A Microfinance NGO) that offers access to various loan products including housing, educational, and business loans. Invited by her neighbor, Cristina admired the affordability of the products and its ease of access. 
At first, she was only interested in availing insurance loans for her family. As a mother, preparing for anything and everything has become second nature. Paying the amount of PhP 20 per week, she happily invests in the future of her family.
After five months of being a CARD client, she availed her first business loan and started her frozen product store that provides a variety of meat products for her neighbors. Business was doing good; in fact, her supplies only last a week after restocking. Not only that, but she also acquired hogs that they used to start their piggery business. 
In addition, she was able to secure and fix their house's battered roof. What was once a roof full of holes is now replaced with a new one. "Before, we would always prepare buckets under our holed roof. Now, thanks to CARD, we can sleep soundly even when it rains," claimed Cristina.
From CARD, Inc., she was then transitioned to CARD Bank to access better financial products and services. As a client for almost five years, she is thankful for CARD as it made her more proficient in handling her family's expenses. "As a client, CARD has been helpful to a mother like me looking out for my family. Investing in my family's insurance and other essentials has never been easier. It's just like merienda that satisfies your hunger without spending a significant amount of money," said Cristina.
As a mother who has secured a physical roof for her family, she has also prepared a roof of insurance where they can take shelter from in times of life's greatest storms. 
In line with CARD MRI's mission of poverty eradication, CARD Bank, together with CARD MRI's financial institutions, aims to provide business opportunities to mothers through its loan products and other social development services. As of January 2022, CARD MRI serves 7,725,652 clients nationwide.