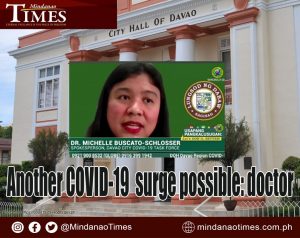 A CITY government official has warned that another surge in COVID-19 cases is highly possible in the city unless the people follow protocols.
Dr. Michelle Schlosser, COVID-19 Task Force spokesperson, made the warning after a report came out that a bar that was operating without a license allowed the indiscriminate holding of a party after the city government lifted the ban on serving liquor in business establishments.
"It's not about the liquor ban, it's how people conduct themselves. Ang uban wala man nag-inom, nag-party man gyud sila. Maski pa naa'y liquor ban or wala'y liquor ban, kung ingon ato ka undisciplined ang mga tao, we will repeat the history of a surge. Kasi pwede man ta mag-inom sa atong panimalay, wala man problema," she said in a report of the City Information Office.
Last week, the city government lifted the ban on serving of liquor in business establishments like restaurants and bars to allow the economy of the city to recover.
DEspite the possibility of another surge and the incident involving the bar, Schlosser said the city government has yet to discuss whether to reimpose the liquor ban in establiments.
"Wala ma'y problema ang muinom ka. There's no problem with you drinking, of course in moderation because anything in excess is dangerous to your health. There's nothing wrong with social drinking but when you're social drinking and violating the minimum public health standards, that's another story," she said as she went on to remind the public that the pandemic is still present.
"Dili lang unta sarili nato or gratification lang nato atong isipon. Kasi that night, when you partied and you had fun, that night was gratifying. But only for one night, we will be suffering for a month and more months of surges, isipon lang na ninyo," she added.
On WEdnesday, the regional office of the Department of Health reported that the city had 32 new cases, bringing the number of active cases to 505. 
The incident involving the bar, which took place about a week ago, prompted the city government to order its closure and to prepare possible cases against it as it was also reported that the city police issued citation tickets on those that did not follow the minimum health standards.