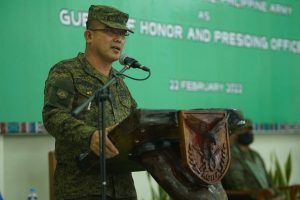 MAJOR General Nolasco Mempin, the new 10th Infantry Division commander, has vowed to use the might of the unit in running after the remaining members of the New People's Army under its area of responsibility.
In his speech in a turnover of command ceremony at the headquarters of the division in Mawab, Davao de Oro on Tuesday, Feb. 22, Mempin said challenged the unit to focus on the goal. 
"I want you to aggressively locate all enemy formations – make use of all our intelligence technological advancement to gather information about the enemy; destroy – apply lethal combat power during encounters," Mempin said, saying the military units under the division should disrupt the activities of the outlawed group by conducting tactical offensives and other forms of actions to defeat it.
Mempin, now the leader of the 19,717-strong Agila unit, replaced Lieutenant General Ernesto Torres Jr., who was assigned as commander of the Northern Luzon Command.
"I will likewise count on each one of you to bring your best foot forward in every endeavor of the command as we accomplish the mission given to us by our chief of Staff of the Armed Forces of the Philippines together with our partner agencies, local government units, and stakeholders," he said.
He said the momentum is on the side of the government forces and that they must "let us take full advantage of it and press the fight before election, we need to do everything to crush down our enemies in our area of operations."
Before his assumption as commander of the division, Mempin was the deputy chief of staff for Civil- Military Operations of the AFP general headquarters in Camp Emilio Aguinaldo, Quezon City.
He is not new to the unit as he once served as its assistant division commander under Torres whom he also replaced as commander of the 1003rd Infantry Brigade. He also served as Task Force Davao commander.
Lt. General Romeo Brawner Jr., Army chief and guest of honor of the event, congratulated Torres for the accomplishments of the division under him as he challenged Mempion to ensure that the goal is achieved.
"We at headquarters Philippine Army will support you all the way; we will run beside you at the same time we will hand you all you need to end and achieve our goal," he added.
Torres also thanked the unit and its partners for sustaining peace in its area.