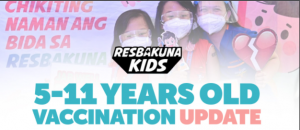 THE city government is planning to add more sites for the rollout of vaccination for the 5-11 age group as it targets to provide shots to about 250,000 of these children.
"We believe that after the success of the hospital and hopefully after the success of the three special sites, atoa nang ma-open ang additional lima ka district sites," said Dr. Michelle Schlosser, spokesperson of the COVID-19 Task Force.
Being eyed as additional sites are F. Dizon Elementary School and Abreeza for District 1, SM Lanang for District 2, GMall Toril, and Holy Cross of Calinan for District 3.
"Hopefully pag wala na'y glitches didto sa atoang special sites ma-open na pud nato ang atoang mga districts. Wala pa ta'y specific date on this one because definitely we will open it as fast as we can para mapaspasan kay I have mentioned daghan pa ta'g bakunahan na 5-11 years old," Schlosser said.
The city government has so far provided 20,000 shots to this age group since its start on Monday in the three initial sites at the Almedras Gym, Vicente Hizon Central Elementary School, and San Roque Elementary School.
Schlosser said the sites are open for walk-ins provided parents or guardians bring with them a Philippine Statistics Authority copy of the birth certificate or valid student identification of the child, valid identification of the parents or guardian, Safe Davao Quick Response of the child, and a pen.
"(We will cater to) as much as we can because we have received 20,000 vaccines from the Department of Health for the pediatric population group 5-11," she said, adding that the city government is hoping to use all the allocated vaccines for the age group.
Schlosser said the sites were identified so that only these could provide doses to the age group as others are for adults.  "These vaccination sites are solely for 5-11 years old. Iba kasi ang dosage ng pedia and adult. Although our vaccinators/ health care workers are trained, we wanted to avoid misdoses that is why we created special vaccination sites para sa ingon ana nga age. Apart from that, we wanted the site to be as friendly and less threatening and fun for them para ma-engganyo sila magpabakuna," she explained.
She also lauded the Southern Philippines Medical Center, Davao Doctors Hospital, Davao Medical School Foundation, and Seamen's Hospital for their participation of the in the initial rollout of the program that vaccinated 2,207 children.