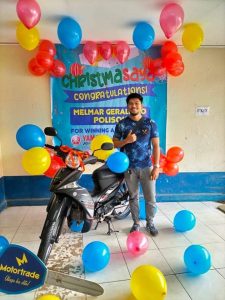 DAVAO CITY  — Last December 2021, Motortrade Mindanao celebrated its annual Christmasaya Promo. The said event was a way for Motortrade Mindanao to express gratuity to its Ka-Motos, who purchased a brand new motorcycle on a cash or installment basis. Motortrade Mindanao gave way four brand new motorcycles as the grand prize to its Christmasaya Raffle Promo.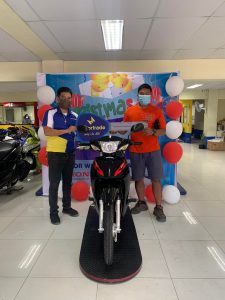 Last February 5, 2022, the winners have been announced via Motortarde Mindanao's New Year's Special Live, streamed on its official Facebook. Motortrade's Marketing Manager, Ms. Syra Delos Reyes, supervised the announcement. From thousand of raffle entries received last December, only four (4) Ka-Motos from different parts of Mindanao bagged the brand-new motorcycles from Honda, Yamaha, Suzuki, and Kawasaki. Here are the lucky Ka-Moto winners of the Christmas Saya Raffle Promo: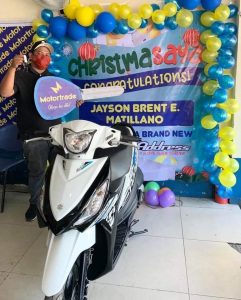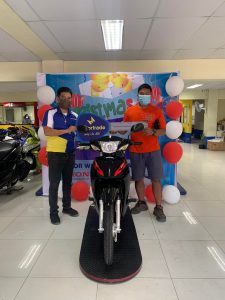 Prize: Honda Wave 110
– Milay, Esteben Ibale from Ecoland 2 Branch
Prize: Yamaha Sight Spoke
– Polison, Melmar Geraldizo from MDI Butuan 2 Aquino Branch
Prize: Suzuki address
– Matillano, Jayson Brentt Espejo from MDI Lagao Branch
Prize: Kawasaki CT100
– Antipuesto, Azucena Briones from MDI Ozamis Branch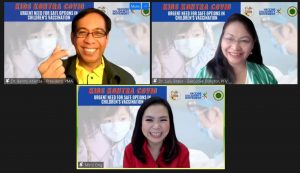 "I would like to take this opportunity to thank our business partners and our ka-motos who participated in our recently concluded Christmasaya Raffle Promo. As we continuously aim to provide quality motorcycles at an affordable price to our customers, we encourage everyone to visit our branches and check out our ongoing discounts intended not just for those who are looking for a motorcycle but also for those who are looking for a one-stop-shop for their motorcycle needs" said Motortrade Mindanao's Marketing Manager, Syra delos Reyes during the livestream.
For Motortrade Mindanao's ongoing promos, you may visit any Motortrade branch near you or message them on Facebook @MotortradeMindanao.