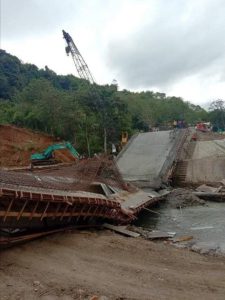 A PERSON was injured after a bridge under construction collapsed in Sitio Kulafo, Barangay Magsaysay, Marilog District on Friday, Feb. 18. at 11:10 a.m.
In a text message to TIMES, City Disaster Risk and Reduction Management Office (CDRRMO) head Alfredo Baloran, confirmed that one injured person was attended to by the Team Davao Rescue.
Baloran said the Team Davao Rescue immediately responded to the collapsed structure in the said sitio.
He added that they already coordinated with the Department of Public Works and Highway (DPWH) regarding the incident.
"DPWH XI Spokesperson Dean Ortiz said that DPWH personnel are now at the site to assess the incident," he further said. 
As of this writing, the authorities are still trying to determine the cause of the structure collapse.