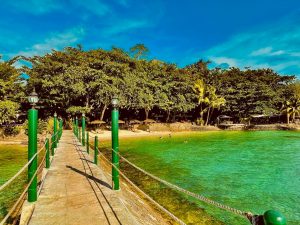 IT HAS been more than two years since I last set foot on the powdery, white sand beaches of the Island Garden City of Samal.  So when an invitation was personally sent by the genial Jessica Segura, the Resort Manager of the nature beach resort called Chema's by the Sea, I didn't think twice about accepting the offer.  Old-timers of Davao City know by heart that this precious property of Chema's was formerly owned by the late Emilio "Miming" Bangoy Palma Gil, and was used as his family's vacation retreat.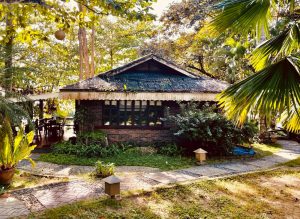 "Yes, Chema's by the Sea is open once again to local and foreign tourists and travelers.  Everybody is welcome to spend a day or two in this truly relaxing garden resort which will surely charm you with the wonders of nature.  Chema's by the Sea features an inviting atmosphere characterized by towering landscapes of beautiful and well-maintained flora and fauna that will amaze every plantita in its harmonic balance with nature; and a private white sand beach that any thalassophile will surely enjoy.  As the resort opens its docks once again, visitors will surely love the newly improved and much-desired amenities, food and beverage offerings, and personalized customer service we offer to satisfy our guests," said the charming and well-experienced resort manager, Jessica Segura.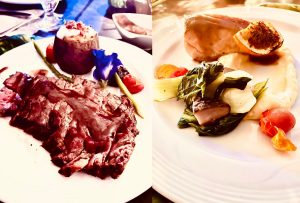 Chema's by the Sea is presently owned by the Discovery Hospitality Corporation which is a home-grown Filipino group determined to "turn prime locations to dream destinations."  Its portfolio of award-winning properties is remarkably well known for its signature Filipino hospitality marked by genuine and personalized "Service that's all Heart."  My moment of discovery of Chema's by the Sea definitely affirms this company's objective.  And to think that Discovery Hospitality partnered with Poseidon Holdings Corporation for its allied services for Chema's by the Sea's preopening requirements.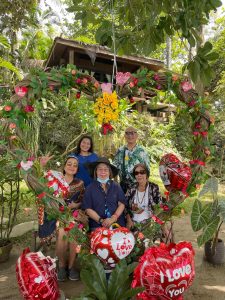 The picturesque Chema's by the Sea, which is on the western coast of Samal Island facing Davao City, is conveniently reached through a 10-minute motorboat ride from the Waterfront Insular Hotel where the resort has a waiting station.  Jessica Segura was all smiles when we arrived safely and disembarked at the dock of Chema's on a fine Friday afternoon.  We passed through an interesting arched entrance and had to climb a steep flight of stairs to get to the hilltop where the resort's rustic cottages and cabanas, restaurant and bar, plus two swimming pools are located.  Sadly, it will prove a challenge, indeed, for handicapped people and senior citizens to get to the hilltop.  By the way, guests are allowed to bring their pet dogs with them during their stay.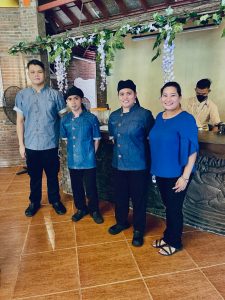 I am pleased with the architectural approach of the developers of Chema's which is heavily inspired by the natural setting of the promontory, coastline, and hill experienced on the site.  The architecture is rustic and understated creating a backdrop to the outdoor environment rather than being the focus of attention.  I felt lucky that I was assigned an air-conditioned cottage that has a view of the sea through its balcony as well as the landscaped gardens which surround the structure.  Chema's main restaurant called the Dining House is centrally located and with its commanding presence offers delightful Filipino cuisine for all-day dining.  For light breakfast and merienda, the Beach Bar offers sandwiches and kebabs, among others.  Chema's head chef from Manila named Mikhail Rioflorido is truly one impressive chef.  I still could not forget his special set menu for a Chema's first-timer like me. The good chef put together a truly delightful nouvelle cuisine consisting of cream of mushroom soup with truffle oil, Ceasar salad with slices of herbed chicken, USDA rib-eye steak with red wine au jus, pan-seared salmon with glazed miso, and a piece of heavenly tasting salted caramel cheesecake for dessert.  And with the talented F&B Service Team Leader Mark Anthony Camo serving us his brand of cocktails plus a four-bottle juggling presentation to entertain us, what more could one ask for.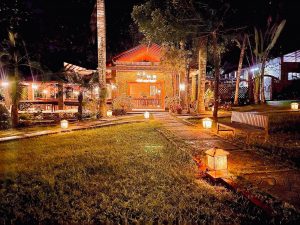 With Samal Island's natural beauty, pristine waters, and the gentle sounds of nature, Chema's by the Sea truly makes a wonderful haven retreat from the tensions of modern city life.  Yes, an escape especially from the election campaigns we are bombarded with daily.  At Chema's by the Sea, with Jessica Segura, Mikhail Rioflorido, and Mark Anthony Camo looking after you, then you are assured and guaranteed of a truly heartwarming and captivating resort experience.  At the end of your stay at Chema's, you'll surely wish, "Sana maulit muli."