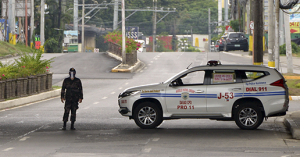 THE DAVAO City Police Office (DCPO) is already prepared for the May 2022 elections as it ensures orderly and peaceful electoral exercise.
Col. Alberto Lupaz, the Davao City Police Office director, said they will deploy all available personnel, in an interview with reporters during the AFP-PNP press briefing on Wednesday, Feb. 16.
"We will support the request of the Commission on Election (Comelec XI), every now and then they are calling ( for a meeting)," he said, adding that the poll body already handed to them the guidelines.
"Ang ginagawa natin (what we are doing is) we are preparing for elections while the gun ban is already in place. That will be continuous," he further said.
Meanwhile, the city police director said they will also enhance the patrol system in the city, not only to sustain the existing mechanism but also to cover more ground.
He ordered his staff and commanders that the personnel should be visible on the ground so that they can respond immediately to any incident or residents needing police assistance
"Of course, we have to consider the distance but there is really a need to respond timely," he said.