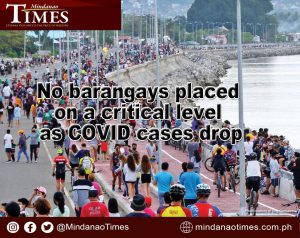 THE NUMBER of critical-risk barangays in Davao City is now down to zero even as the cases continue to drop following a brief surge in mid-Jan. up to the first week of February.
Four weeks ago, from Jan. 17 to Jan. 22, the number of critical risk barangays shot up to 18 and further increased to 74 during the period from Jan. 24 to Jan. 29, and 105 from Jan. 31 to Feb. 5.
As the city government intensifies the COVID-19 response, the number of critical risk barangays started to decrease from the Feb. 7 to Feb. 12 period.
From Feb. 14 to 19, the COVID-19 Task Force listed two high-risk barangays—Kilate and Tagurano in Toril District—while there are still 59 moderate risk barangays. The full list of barangays COVID-19 risk classification can be accessed on the City Government of Davao Facebook Page.
Meantime, the city remains under Moderate Risk with a "Low" two-week growth rate at -81.13, and a "High" Average Daily Attack Rate (ADAR) at 8.87. This is lower compared to the data as of Feb. 5 with a -34.7 2-week growth rate classification and a 24.16 or "high" Average Daily Attack Rate for coronavirus.
Given this downtrend situation, Davaoeños are still reminded to strictly follow minimum public standards, get vaccinated, or avail of the booster dose because the possible rise of cases may happen anytime.
Restrictions lifted
Meanwhile, the city government has lifted all restrictions concerning barangay, local, and national government office events effective Tuesday, Feb. 15.
Executive Order (EO) No. 6, also known as "An Order Providing For The Lifting Of The Regulations On All Barangay, Local, And National Government Office Events Including Government-owned And Controlled Corporation Events," was issued on Feb. 14, 2022.
EO 6 lifted the regulations mandated by the EO 69 series of 2021, or "An Order Extending Until September 12, 2022, the Regulations on All Barangay, Local, and National Government Office Events Including Government-Owned and Controlled Corporation Events."
"There is a need to ease and loosen restrictions following the decrease in the number of cases reported, the active vaccination rollout within the city, and the availability of the Molnupiravir drug," the document said.
All events that were previously prohibited by EO 69 have already been allowed in face-to-face, hybrid, or online platforms, "including but are not limited to the inauguration, anniversary, thanksgiving, ribbon-cutting, blessing, turnover, groundbreaking activity, launching a program, salo-salo, birthday, press conference, oath-taking program, photo opportunity, retirement honors, welcome honors, testimonial program, summer outing, team building, training, seminars, and all other similar activities."
All disaster and emergency activities, including the distribution of financial, food, and non-food items, are still allowed.
The new order also provides that food and non-food items unrelated to a disaster or emergency event should be distributed house-to-house via contactless delivery by the organizer or in a distribution system that will not result in a mass gathering.
These activities include the distribution of livelihood kits, information materials, distribution of government aid, community pantry, food aid, and all other similar activities.
However, EO 6 underscored the strict implementation of the minimum public health standards in conducting face-to-face events and compliance with the guidelines that may be issued by relevant government agencies.
"All previously disapproved events covered by Executive Order No. 69 series of 2021, which are to be conducted after the effectivity date of this Order is deemed approved," EO 6 states.
The Inter-Agency Task Force (IATF) Resolution No. 161-A has also downgraded Davao City from Alert Level 3 to Alert Level 2 beginning today up to the end of February. 
Davao City is currently at 85.14 percent for first doses, 83.31 percent for second doses, and 15.26 percent for booster shots of 80 percent of the city's total population as reported by the Davao City Task Force on COVID-19 on Feb. 14.