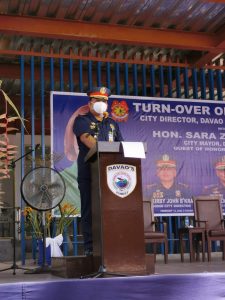 THE NEWLY designated city police office director vows to strengthen security measures and enhance law enforcement to maintain peace and order in the city.
Col. Alberto Lupaz replacef outgoing police director Col. Kirby John Kraft in a change of command ceremony held at its headquarters in Camp Leonor Domingo along San Pedro street on Monday, Feb. 14.
Lupaz begins his message as he expressed his gratitude to Mayor Sara Duterte for the trust and confidence in leading to serve and protect Davoeños.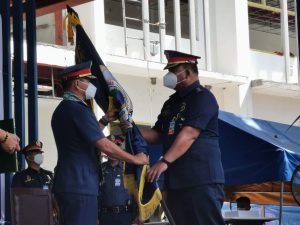 "To the officers and men of Davao City Police Office, I seek from each one of you the motivation to perform your duties and responsibilities effectively and I will be demanding your efficiency from this day on until my tour of duty expires," Lupaz said. "We will carry out our duties and responsibilities with sincerity and dedication to accomplish our mandates."
The newly designated city police chief said that they will ensure that they will deliver meaningful and impact results in the enforcement in May 2022 elections and anti-criminality campaign.
"As your acting city director, we will initiate plans and programs that will bring Davao City Police Office to higher echelons because our community deserves it," he added.
He also said that he will adhere and implement the policies of the Philippine National Police (PNP) under Gener Dionardo Carlos.
Moreover, Lupaz said that they will continue and intensify the change in the communities with the Revitalize Pulis Sa Barangay (RPSB) as part of the program thrust of Police Regional Office XI director Brig. Gen. Filmore Escobal.
"Having pulis sa Barangay in every barangay will help us achieve and accomplish more in as much as we win the hearts and minds of the people, thereby dismantling the politico-military structure of the communist rebels," he said.
He added that he will improve the public safety in the communities through the  conduct of police visibility patrols based on the crime revealing patterns as part of the enhanced management police operations plan of the PNP.
Also, in her message, Mayor Sara Duterte said that Keeping Davao City safe is not an easy task, especially due to the land area and the various entry points, the threat of insurgency, the ever increasing population, and the booming economy.
These challenges exacerbated even more in 2020 with the outbreak of COVID-19. "As public servants we all took on additional responsibilities well to ensure that we do not violate public health protocols in the course of delivering our mandate," she said.
At the height of the pandemic, Davao City Police Office was able to set up checkpoints assisting the lockdown, apprehending health protocol violators and even in swabbing efforts. 
The office also was adjudged as best city police office in the country last year.
Duterte said, "To our new city police director, Col. Alberto Lupaz, congratulations and good luck. Your track record, and with the support of the uniformed and non uniformed personnel and auxiliaries of Davao City Police Office, we know that you can do that job."
Prior to his assumption as DCPO chief, Lupaz was the chief of the Regional Investigation and Detection Management Division, in PRO XI.
He graduated with a master's degree at the Philippine College of Criminology in 2017, Bachelor of Science in Public Safety at Philippine National Police Academy class 1997 "Kapanalig," and Bachelor of Arts in Political Science at University of Mindanao – 1986-1991
He was also designated as Provincial Director, Davao Del Sur Police Provincial Office – February 18, 2020, Chief, Regional Operations Division, PRO11 – September 24, 2018, Group Director, Regional Headquarters Service Support Group, PRO11 (OIC) – October 10, 2016, Assistant Provincial Director for Admin, Davao Del Sur, Police Provincial Office – July 15, 2013.
Also he served as Assistant Provincial Director for Operations, Davao Del Sur, Police Provincial Office – July 3, 2012, Company Commander, Davao Del Sur, Police Provincial Office – December 7, 2009, Company Commander, Davao Del Sur, Police Provincial Office, PMFB – April 18, 2008, Company Commander, Compostela Valley, Police Provincial Office, PMFB – November 27, 2006, Chief of Police, Nabunturan MPS, Compostela Valley, Police Provincial Office – January 20, 2004 and Chief of Police, Monkayo MPS, Compostela Valley, Police Provincial Office – September 27, 2000.
Lupaz will lead the Davao City Police Office with the strength of 2,383 personnel currently with 20 police stations securing the different areas in the city.
Meanwhile, for almost two years as the city police office director, Kraft will be reassigned to Police Regional Office XI as Deputy Regional Director for Operation (DRDO).