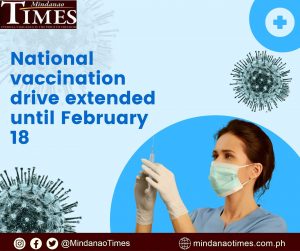 THE "BAYANIHAN Bakunahan Part 3" has been extended until Feb. 18 after the low turnout of vaccinees on Feb. 10, the first day of the third National Vaccination Days (NVD).
"Compared sa part one and part two, this part three launching kay medyo mababa ang outcome (Compared to the parts one and two, the part three launching has a low outcome)," said Dr. Michelle Schlosser, City COVID-19 Task Force spokesperson, during the weekly Bida Bakunado program of the 87.5 FM Davao City Disaster Radio on Friday afternoon. 
She said only a total of 5,662 individuals showed up to get themselves vaccinated on the first day of the NVD. Of this number, 618 received first doses while 2,844 got second jabs, and 2,200 availed of the booster shots.
"The Bayanihan Bakunahan 3 will be extended up to Feb. 18 para lang gyud ma-secure ug mapaspasan nato atoang mga booster doses. Mao atong gina look forward karon kay ubay-ubay na ang atong fully vaccinated individuals (The Bayanihan Bakunahan 3 will be extended until February 18 to secure and hasten the rollout of booster doses. We are looking forward to that since we have a lot of fully vaccinated individuals)," Schlosser said.
She sought the help of the media to let the public know the importance of getting a booster dose.
She also said that Davao City is fortunate to have achieved almost 100 percent of its target herd immunity and that it can now just focus on the boosters.
The city health official continued, "Karon, we are fast-tracking the booster dose kay wala ta kabalo kanus-a napud mag-evolve ang virus, magkaroon napud ta og bag-ong variants and we can't afford to have another surge. At least, kung maabot man ang new variants fully boostered atong mga tao ug atoang komunidad (We are now fast-tracking the booster rollout because we don't know when the virus would evolve or when new variants will emerge and we can't afford to have another surge. At least when new variants come, our communities are fully boostered)."
Schlosser added that boosters will give people 25-fold protection against the severity of COVID-19 symptoms. She urged fully-dosed Davaoeños, including pregnant women on their second and third trimesters, and lactating mothers to avail of the boosters as well.
To provide more opportunities for the public to get vaccinated, she said the drive-thru vaccination at the Crocodile Park will start operating on Saturdays beginning February 12, along with the vaccination site at People's Park. The most preferred brands, Pfizer and Moderna, are available at these two parks.
The rest of the city-managed vaccination hubs will resume operations today, which also kicks off the pilot vaccination rollout for the pediatric population 5-11 years old at the Southern Philippines Medical Center (SPMC), Davao Doctors Hospital (DDH), and DMSF Hospital, and the Seamen's Hospital.