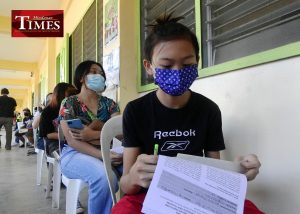 THE CITY government has started preparing for the launching of the rollout of pediatric vaccination for children between 5 and 11 as it will kick off next Monday.
Dr. Michelle Schlosser, COVID-19 Task Force spokesperson, urged parents to have their children get the needed shots as the rollout was postponed for a week. 
"This is a special rollout for our kids as special syringes and a special formulation of the vaccine will be used. Most children of this age hadlokan og dagom (fearful of needles), we want the vaccination sites to be as playful, friendly, and less threatening as possible," said Schlosser.
The good thing, she pointed out, is that if glitches during the initial implementation of the program are experienced, this will immediately be addressed by participating hospitals. 
Under the rollout, the hospitals will be the ones to implement the vaccination, while supply of syringes and vaccines will come from the city government. 
Among the have confirmed their participation in the rollout are the government-run Southern Philippines Medical Center (SPMC), the Davao Doctors Hospital, the Davao Medical School Foundation Hospital and the Seamen's Hospital.
For thsoe who want their children to get inoculated, Schlosser said they should register them through the use of the Safe Davao Quick REsponse Code or through its website (https://profiles.safe-davao.com).
Schlosser said parents of children with comorbidities must let their pediatricians fill up the templated medical certificate in the city's operational vaccination hubs before submitting their children for vaccination.